FOBMC #3: "Infinity on High"
thnks fr th mmrs, boys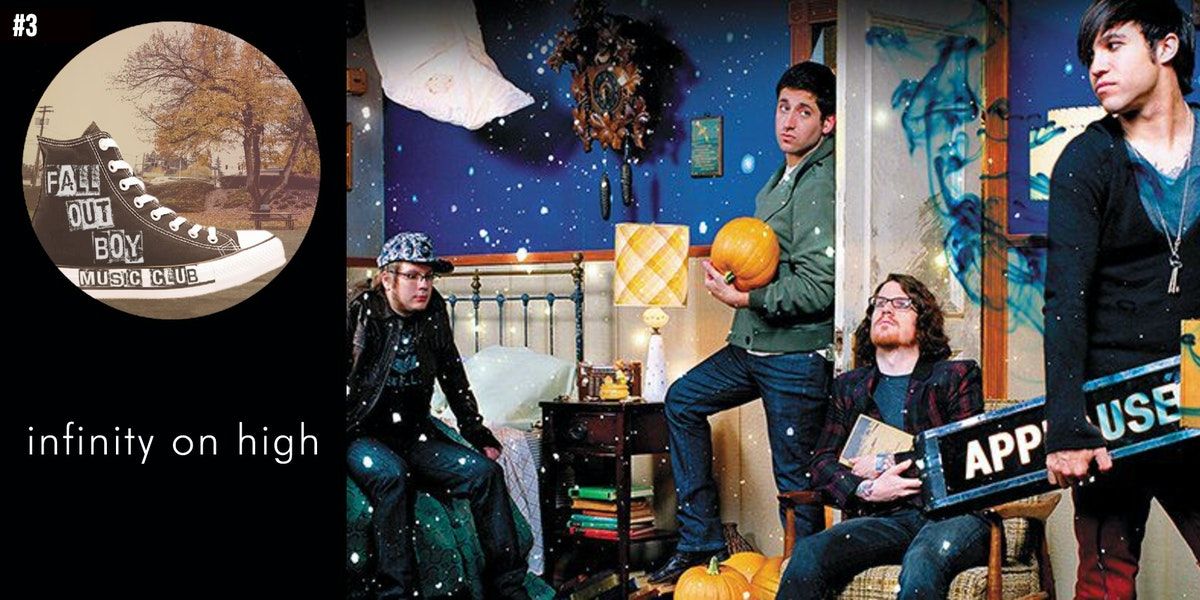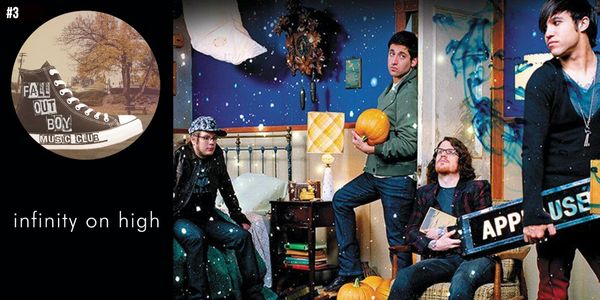 Welcome back to the Fall Out Boy Music Club! It's the official fall of Fall Out Boy here at Friendmendations — every other week, we'll analyze the discography of Chicago's angstiest export. Share the link on social media! Get all your former emo friends to join the club!
So far, we've looked at the band's first album, Take This to Your Grave, and their breakthrough hit, From Under the Cork Tree (and also the debut of their protégés, Panic! at the Disco.) This week: Infinity on High.
---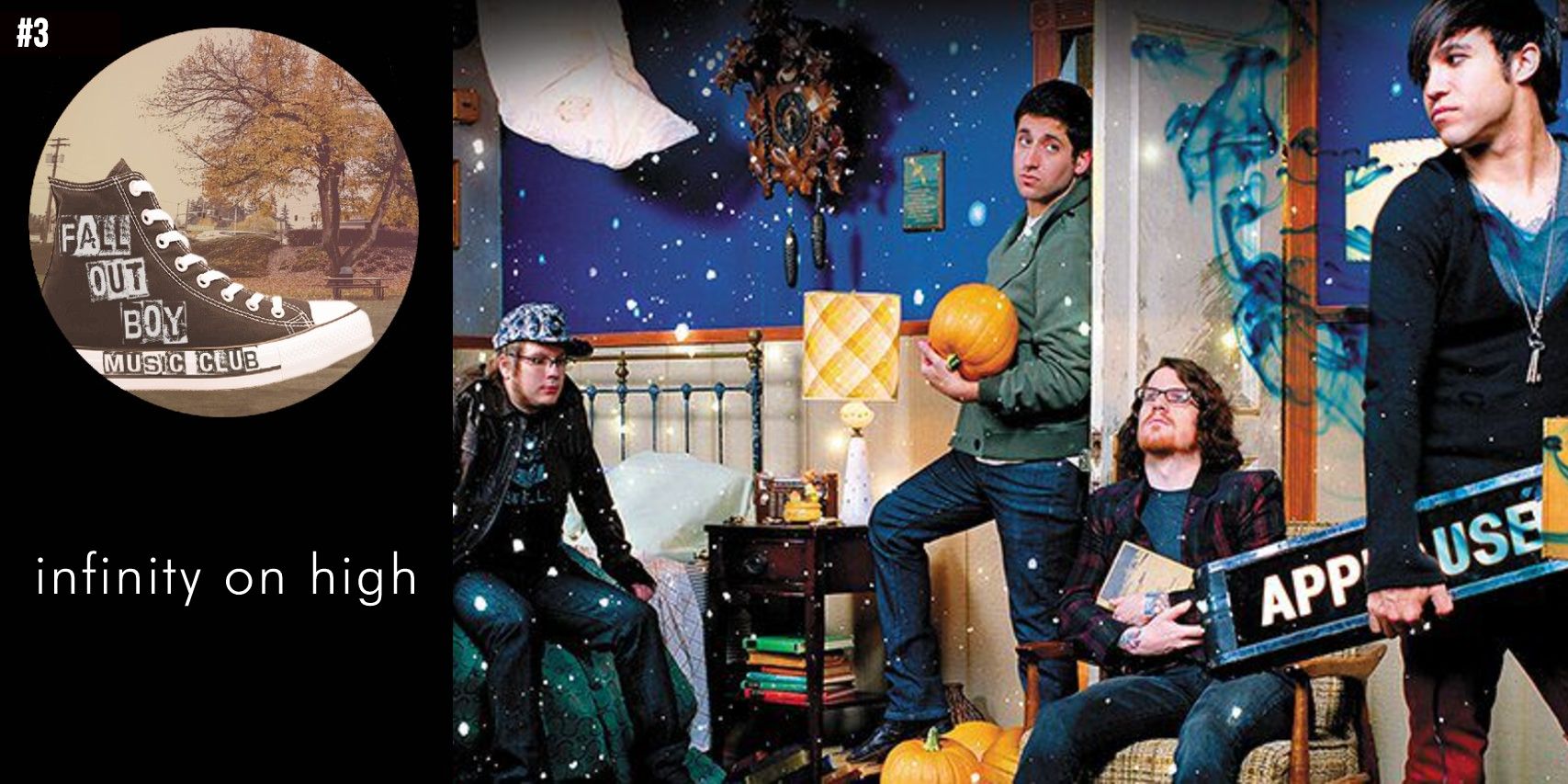 Pete Wentz used to compare himself to Peter Pan a lot, so much so that he got a Neverland-inspired tattoo. In a Rolling Stone profile before the release of Fall Out Boy's third album, he insisted he was getting over all that. No more skintight jeans, less eye makeup, moving past the Peter Pan complex. "I want to be a man," he said.
But at 28 years old, he still hadn't outgrown dating a teenager. 2007 was the last year of an on-and-off relationship with the girl he'd started dating when she was only 15. She has since described the relationship as manipulative during her young and impressionable years, and said "everything was really fucked up about it and really unhealthy." In that Rolling Stone profile, Pete described her as "crazy" and "irresistible."  At one point during the interview, he screamed at her on the phone: "Where are you? Who the fuck are you with?" He was two years shy of 30, famous, and the head of a record label; she, at 19, was a hairdresser in Chicago who had been with him for most of her teens. She is described by the author as "his sulky teenage muse."
After the success of 2005's From Under the Cork Tree, Pete Wentz was a celebrity. Tabloids covered his scandals, like when his nudes leaked online. He briefly dated Lindsay Lohan, Ashlee Simpson, and Michelle Trachtenberg before reuniting with "his muse" and had been seen vacationing with Simpson the same month that he told Rolling Stone that the 19-year-old girl was the only one for him. "There are parts of me that are like, 'Yeah, we could get married,' but there are parts of me that couldn't spend tonight with her," he said of the teenager, but concluded, "I'm not interested in other people. There could be a million girls and it doesn't matter to me." (Pete and Ashlee would be engaged and pregnant within a year.)
Though it was easier for men to get away with shit like that back then, it didn't go unnoticed at the time. A chipper "Fall Out Boy primer" from an ultrafan written in 2009 says, "An explanation on the pedo jokes that [the fandom] makes at Pete's expense: They're slightly true."
The other comparison Pete aspired to was Jay-Z. He wanted to be a business, man. He launched a clothing line called Clandestine Industries, opened a nightclub in New York called Angels & Kings, and, of course, launched his own label to make money off the boom that his band had created. He struck when the iron of Fall Out Boy's success was hot by signing soundalikes Panic! at the Disco and other teen-friendly acts like Cobra Starship, The Academy Is…, and Gym Class Heroes. "People are going to be piggybacking bands off of us," he explained. "Somebody's going to be pulling those strings, why would it not be me?"
There were still three other members of Fall Out Boy, by the way.
By the time the band rolled out Infinity on High, their public identity was essentially the Pete Wentz Show. Patrick Stump remained a genius behind the scenes and very uncomfortable elsewhere. On the topic of Fall Out Boy being dismissed as a new "boy band" for tweens, he responded, "Boy band? I'm fat! If we were a boy band, I'd look good, I'd dance and I'd be charming — so what the fuck are you talking about? I write songs, that's all I do."
Pete, on the other hand, had finally moved to LA after years of living at home with his parents (and dating a teen). He'd joined the inner circles of the It Girls of the era, partying with Lindsay, Ashlee, and the Hilton sisters during the "golden age" of the paparazzi — the years when blogs drove up the desire for celebrity gossip on-demand, and social media hadn't yet exploded to fill that void. Infinity on High addresses some of that exposure. Hova himself contributes the album's introduction with a fuck-you to the critics and another song references "headlines and flash photography." On "Thnks fr the Mmrs," Pete wrote about gossip linking him to It Girls: "They say I only think in the form of crunching numbers / In hotel rooms, collecting Page Six lovers." The video featured him making out with a pre-KUWTK Kim Kardashian.
The video for lead single "This Ain't A Scene, It's An Arms Race" was far more self-referential — or self-obsessed, if you prefer. (I do.) Real anecdotes from the band's ascendence are fictionalized to some degree. The leak of Pete's nudes, attributed to a hack, is portrayed more blatantly as an act of predation here. Patrick gamely satirizes a recording session he'd botched with Jay-Z; invited to write a hook for a song on the rapper's album Kingdom Come, he had been struck with writer's block and intimidated. ("All of hip-hop showed up," Patrick remembered miserably. "Jay walks in with Timbaland, then Swizz Beatz walks in. Beyoncé was there, doing that dance you see on TV.") But there weren't similar stories to spoof for Andy Hurley and Joe Trohman. Andy got a goofy invented scene in the video; Joe was simply killed off. It was only the band's third album and second to achieve mainstream success, and the video still featured a full career retrospective: they recreate a shot from the "Dance, Dance" video, the funeral features the star-crossed lovers from "Sugar We're Goin Down" and the vampires from "A Little Less Sixteen Candles…," half of Decaydance Records make cameos, and Pete's celebrity friends mourn in the audience.
Mercifully, though — because most of the songs were written about a teenager!! — the album itself doesn't spend too much time whining about celebrity. The real story is the album's production, and the real MVP is, as per usual, Patrick Stump.
Patrick had started to gain success as a producer, contributing the excellent "Little Weapon" to Lupe Fiasco's The Cool and handling production for Decaydance signees Cobra Starship and Gym Class Heroes. Infinity on High was a big jump forward in experimentation for him, with R&B and funk influences infusing the pop-punk and eclectic instrumentation popping up throughout. "I never thought I'd get a euphonium onto a Fall Out Boy record," he enthused, that nerd. Mandolin and pan flute also show up in the instrumentation credits. Neal Avron was once again brought on as executive producer, but the band collaborated with R&B legend Babyface for two tracks. (In a statement I have no choice to respect, Pete explained, "He did the soundtrack to Josie and the Pussycats, and it's amazing." The man has never been as correct, before or since.) The result is a lush, often very beautiful sound balanced out with the heavy guitars and drums that Joe and Andy always nailed.
It's Fall Out Boy, so there are some bad ideas. The call-and-response on "Arms Race" was inspired by Justin Timberlake's "Señorita," itself a hate crime. One song is called "Bang the Doldrums," perhaps the most egregious pun on an album full of them. Another was originally, appropriately, titled "Law & Order," but of course the title was changed to something more obnoxious, "You're Crashing, But You're No Wave." It tells the story of Fred Hampton, Jr.'s trial for arson charges after the Rodney King riots. Despite the serious subject matter, it includes the wholly inappropriate simile "The verdict falls like bachelors for bad luck girls." The video for the album's final single was shot in Uganda to benefit the Invisible Children organization; regrettably, the song was titled "I'm Like A Lawyer With The Way I'm Always Trying To Get You Off."
A fully insane "Arms Race" remix stripped all of the band's instrumentation and almost all of Patrick's vocals to cram in verses from Kanye, Jay-Z, T.I., Lupe Fiasco, and Lil Wayne…. and also Fabolous, Paul Wall, Skinhead Rob and Jadakiss. Oh, and also Decaydance signees Gym Class Heroes. And their vocalist Travie McCoy's cousin, Tyga. It's almost 8 minutes long and it's a disaster. Kanye spends his entire verse mocking Fall Out Boy. Everything was way stupider in 2007.
The gaps between Pete's lyrics and Patrick's melodies aren't as noticeable on this album as they were on Cork Tree, with a lot less contortion necessary to make the lyrics work when sung. Issues are certainly there if you look for them. What could be a simple lyric, something like "We don't crash cars, we crash parties," is instead rendered as the confusing "crashing not like hips or cars, no, more like parties," with Patrick adding a p-p-p stutter on the front of "parties" to fit the tune. I think "crashing hips" is supposed to be a sex reference, but I can never fully tell with Pete Wentz. "Bang The Doldrums" includes the fairly gross lyrics "come hell or high water / well, I'm feeling hot and wet" and "happily ever after below the waist," lines made even more confusing by the fact that the song was originally written for the movie Shrek 2.
But that's Fall Out Boy for you! Some confusing bullshit wrapped up in very catchy songs. There's angst if you want it, with more wrist-slitting references and a song about Pete's suicide attempt that interpolates Leonard Cohen's "Hallelujah," the song Pete was listening to when he overdosed. But "Hum Hallelujah," like most of the other songs on the album, is upbeat and anthemic. I really like Infinity on High. It's more sonically cohesive and less embarrassing than Cork Tree, even if its singles aren't quite as iconic. If you can get past the Pete Wentz of it all, it's a really enjoyable pop-rock record. If you can't…. well, the next album they wrote wasn't about a teenager, so you can look forward to that.
---
Next time in the Fall Out Boy Music Club, the band brings in Lil Wayne, Elvis Costello, Pharrell and Debbie Harry for the weird and fascinating Folie à Deux. Then they disappear.
The Fall Out Boy Music Club logo was designed by Chuck Kaslow. Please tell your friends to join the club!