Music videos with Halloween vibes
None are "Thriller." Come on. We all know "Thriller" by now.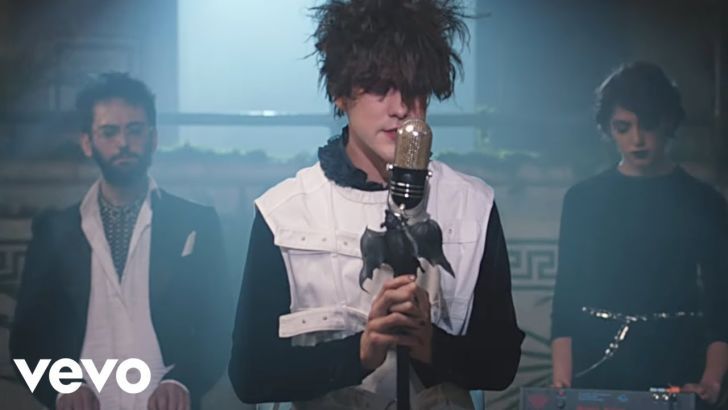 Oh boy do I love music videos. I love 'em so much! I'll take any excuse to talk about music videos, and this, the most spooktacular time of the year, certainly counts as an excuse. If you're planning a Halloween party, you could put this playlist on mute on your TV and have a nice creepy ambiance all night long.
I've tried to exclude super obvious choices here — we all know and love "Everybody (Backstreet's Back)" — but will definitely miss some good ones, so drop your favorite spooky video in the comments!
Genre: Gothic horror
MGMT has a serious knack for creating worlds with their music videos. My college roommate and I often talked about throwing a wild hippie party inspired by their psychedelic "Electric Feel" video. I would go a step further with their "Little Dark Age" clip, and straight-up live in it if I could. I would wear dark lipstick and marry Andrew VanWynGarden in his Robert Smith drag if he would take me as his pale spooky bride. I don't even like spooky things that much! I'm not really one of those people! I just get so swept up in the feel of this video!
I don't want to marry anyone involved in this. For this post, I'm mostly omitting the entire swath of emo videos from the early-aughts peak Hot Topic era, because we could make an entire list just from those bands. But I'm so amused by the extent to which blink-182 did The Most here, committing to a video that matches the absurdity of the song itself. CATCHEENG THEENGS AND EATING THEIR INSOIDS!
Phoebe's first of two appearances on this list. Imagine projecting this on a wall at a Halloween party. It'd be the best!
Genre: skeletons
Well, obviously. I firmly believe this is the best thing Tim Burton has done since the 90s! (Yes, I have considered the other video he directed for them, which stars WINONA RYDER, and yet I still do not think it is as good.)
Brilliant in concept and execution. Run the Jewels knows that the scariest thing of all is the real world.
Genre: vampires
"Kill V. Maim" is one of the best songs of the century. Hands down. Conceived as a theme song for an imagined gangster movie about girl vampires, it's a wild, innovative work that morphs into a different, better song every 10 seconds. The Art Angels song and its video represent the absolute best of Grimes — her visual art background, her use of sci-fi and fantasy elements, her love of pop, and her serious, truly killer production skills.
Here's an alternative to swap in if you want something a little less bloody. Are we all aware that Aly & AJ are making fantastic synth-pop these days? Really solid, Carly Rae Jepseny 80s-inspired bops? Get on that if you haven't.
(I suppose I should mention Fall Out Boy's "A Little Less Sixteen Candles, A Little More Touch Me" video here. It's so silly! My brother and I have made fun of Pete Wentz's vampire-teeth-garbled "You call yourthelveth hunterth" line delivery ever since this video was released in 2005, so I have had 14 solid years of not taking this video seriously. That's half my life! Your personal mileage may vary.)
Genre: generally creepy
I LOVE this song. The video is very creepy, though! I don't watch it very often but now is the time of year to do so.
Phoebe Bridgers strikes again. This one is throwback-y and culty and sci-fi!
This is chaotic and unsettling and has Natasha Lyonne in it!
I love this scary teen. Her "All The Good Girls Go To Hell" video would certainly fit here too, as would her very cool live performance of this song on Jimmy Kimmel, or pretty much anything she does.
Well, it's right there in the title.
This mashup of Slipknot and tween Biebs…. actually slaps.
TELL ME YOUR FAVORITE CREEPY VIDEOS IN THE COMMENTS! Let's discuss!