They don't make 'em like they used to!
(rom-coms and also ugly furniture)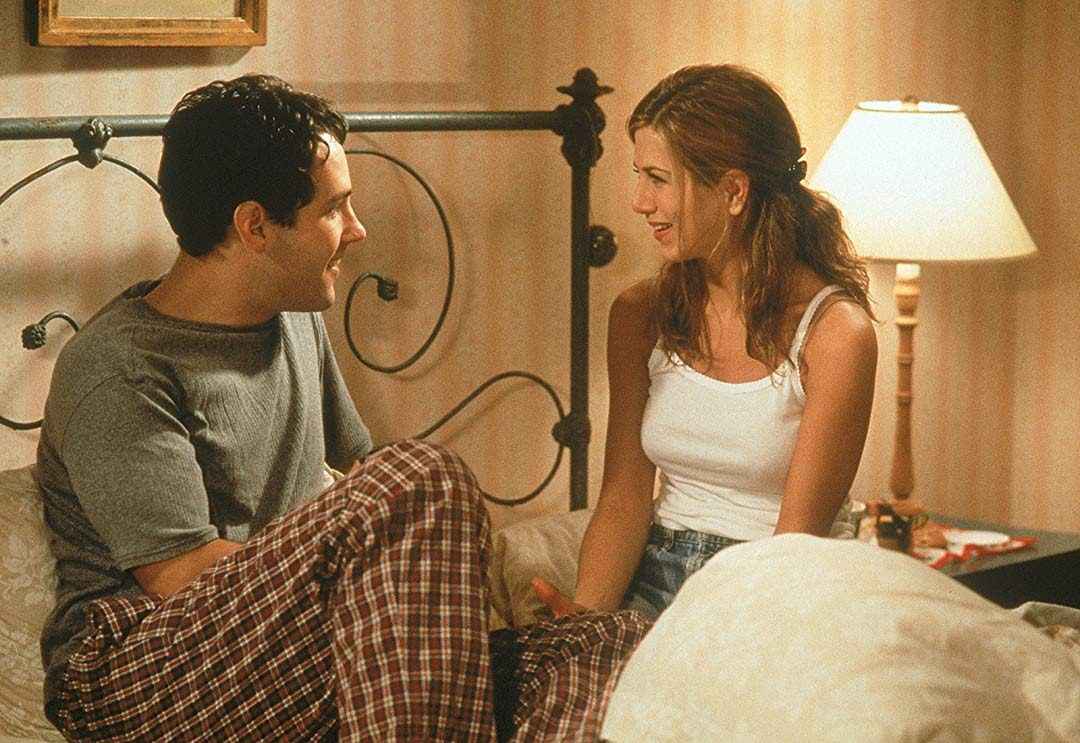 As mentioned in Wednesday's post, I bonked my dang head a few days ago and got a concussion. It's luckily mild, and I just had to veg out on the couch for a few days to let my body recuperate.
I ended up watching a lot of movies, selecting weirder ones than I normally would since I knew I might nod off during them. The day I got home from the hospital I found a movie on HBO Go called The Object of My Affection. It might be the head trauma talking, but I thought it was pretty good!
The Object of My Affection stars Jennifer Aniston and Paul Rudd as roommates whose relationship gets complicated when Aniston's character Nina gets pregnant. She's having problems with her boyfriend and wants to raise her baby with her best friend and roommate George. As they navigate the decision, she begins to fall for him despite the fact that he's gay.
When my mother called to check on me that evening, I told her that I'd watched a movie starring Jennifer Aniston and Paul Rudd, and she replied, "Oh, they're both so charming! Of course you're gonna have a good time with them in a movie." And people, she was right!
This film came out in 1999, if you couldn't tell from the Sister Hazel song in the trailer, and I truly loved every minute of it. Again, I did watch this with a head injury, but perhaps that's the best way to go into any rom-com.
Sure, I have a few quibbles — Paul Rudd's portrayal of leading man George makes me wonder if he had met a single gay person in his life, and despite the will-they-won't-they premise, the film doesn't mention the word "bisexual" even once — but it came out 20 years ago so I can't be too hard on it. Adapted by the wonderful Tony-winning playwright Wendy Wasserstein, the film actually holds up pretty well, especially when you consider that it was based on a novel that came out in 1987. (It should not have surprised me to discover that the author of that novel was none other than Stephen McCauley, whose lovely My Ex-Life appeared in a past Friendmendations post! Like that book, this story is warm and empathetic and filled with characters you love like your own friends.)
I did not grow up on any rom-coms, because I have two brothers and our movie selections had to be agreed upon as a group, but I feel profound nostalgia for the 90s rom-com genre regardless. And I think the set design is a huge part of it! Why am I in love with Jennifer Aniston's apartment here?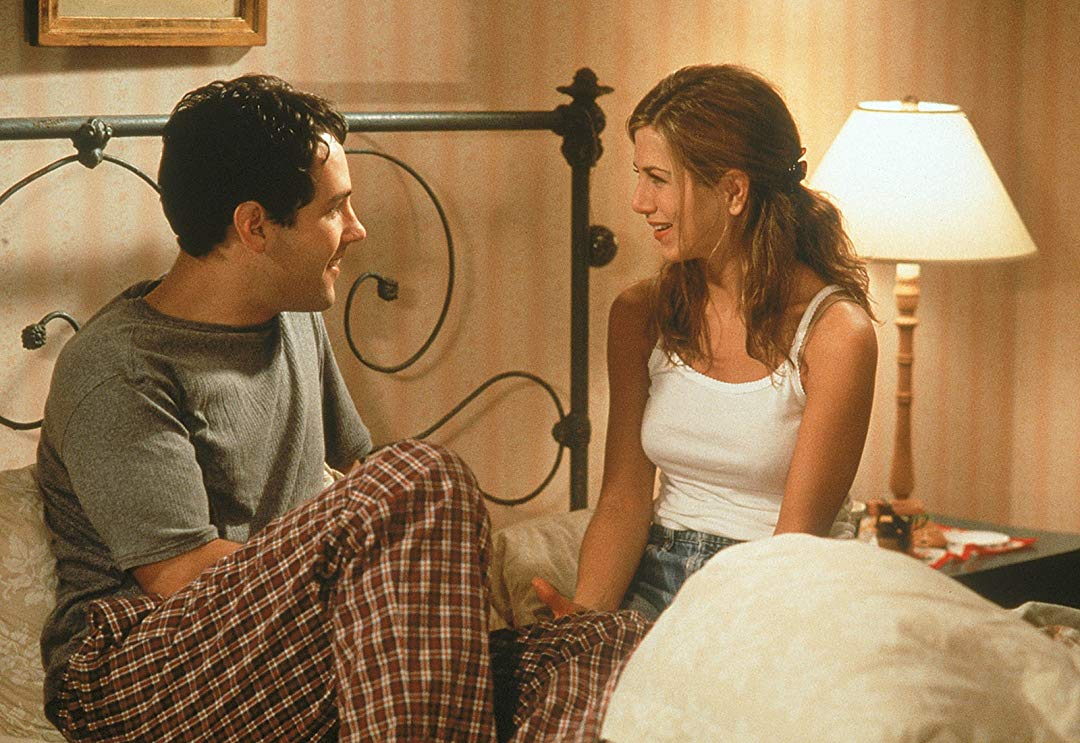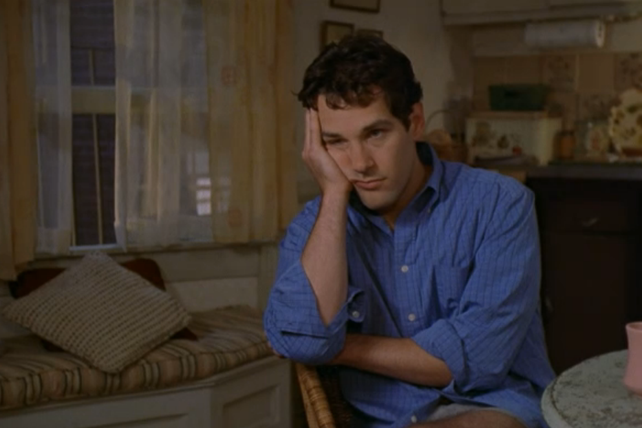 I shouldn't feel any attachment to this era of design, and yet I find it charming! Everything looks like it was designed by someone named Susan who grew up in Ohio and has no fear of plaids or florals, or mixing the twain. The color palette is buttery. Curlicues? Yes please, says Susan! I'm fascinated that this was a style of house that people all over America cheerfully signed up for, mostly because it's so unabashedly feminine. Is this how we got the rise of the man cave? Was it a retaliation against the gauzy curtains and fruit-patterned kitchen decor?
Don't get me wrong, I would never decorate my own apartment like this. I'm as much a sucker as any millennial for the airy, mid-century modern-meets-Scandinavian influences that are in vogue right now. But that style of home decor can skew towards minimalism in a way that doesn't feel very livable. In contrast, the rom-coms of the 90s say: what if a quilt could be a house?
Look at Meg Ryan's apartment in You've Got Mail.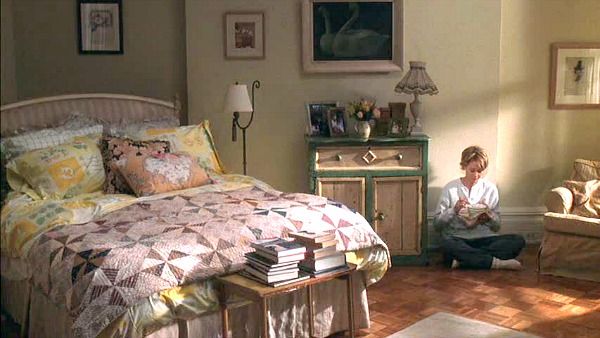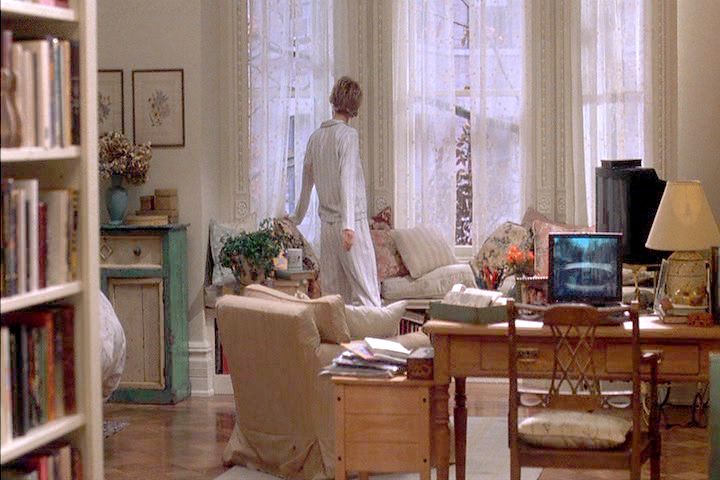 This has Imaginary Susan's fingerprints all over it. So much cedar. Such dowdy art choices. My brain says no but my heart says yes! Note that both film sets feature pillow-laden window seats. A place to contemplate while reclining? A dream!
Of course, perfect home decor is part of the fantasy of a rom-com. It's a staple of the genre. But this particular era of design offers a very specific reverie: that you will have a person to love, and an apartment covered with soft surfaces to lounge on. I rent a tiny bedroom in an apartment with two roommates and I don't have a single aspect of my life together, and I like to spend my limited downtime draped dramatically across any piece of furniture that will support me. You'll see why I'm entranced by the concept that I could do that full-time after various hijinks led me to the love of my life.
I'm just a lady with minor brain damage, and I'm not ashamed to say that I pine for the warm, pastel 90s life before the economy had crashed, before the War on Terror began with no end in sight, and when none of us knew what Facebook was. I can cover my living space with plaid pillows, but I know it will never be the same.
---
More like this: