Watching "Hamilton" as America burns
Just like my country: innovative, complicated, and problematic.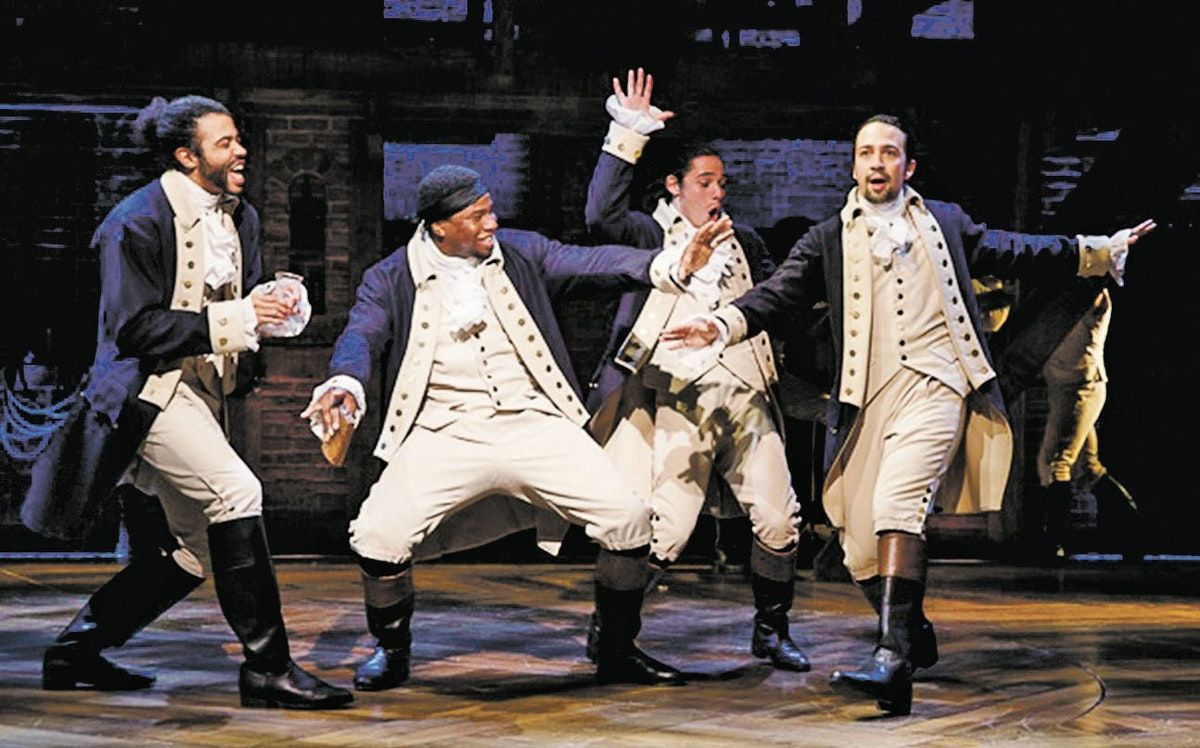 My New Year's resolution for 2020 was to see more live theatre. Ha!! As with so many goals and dreams, 2020 sauntered in and said, "Bitch, you thought."
So I saw one piece of live theatre live in a theater, and it will certainly be my last for the year. The production I saw was a raw, bracing indictment of the Trump era, which was surprising, considering it was a revival of a sunny Rodgers and Hammerstein musical from 1943.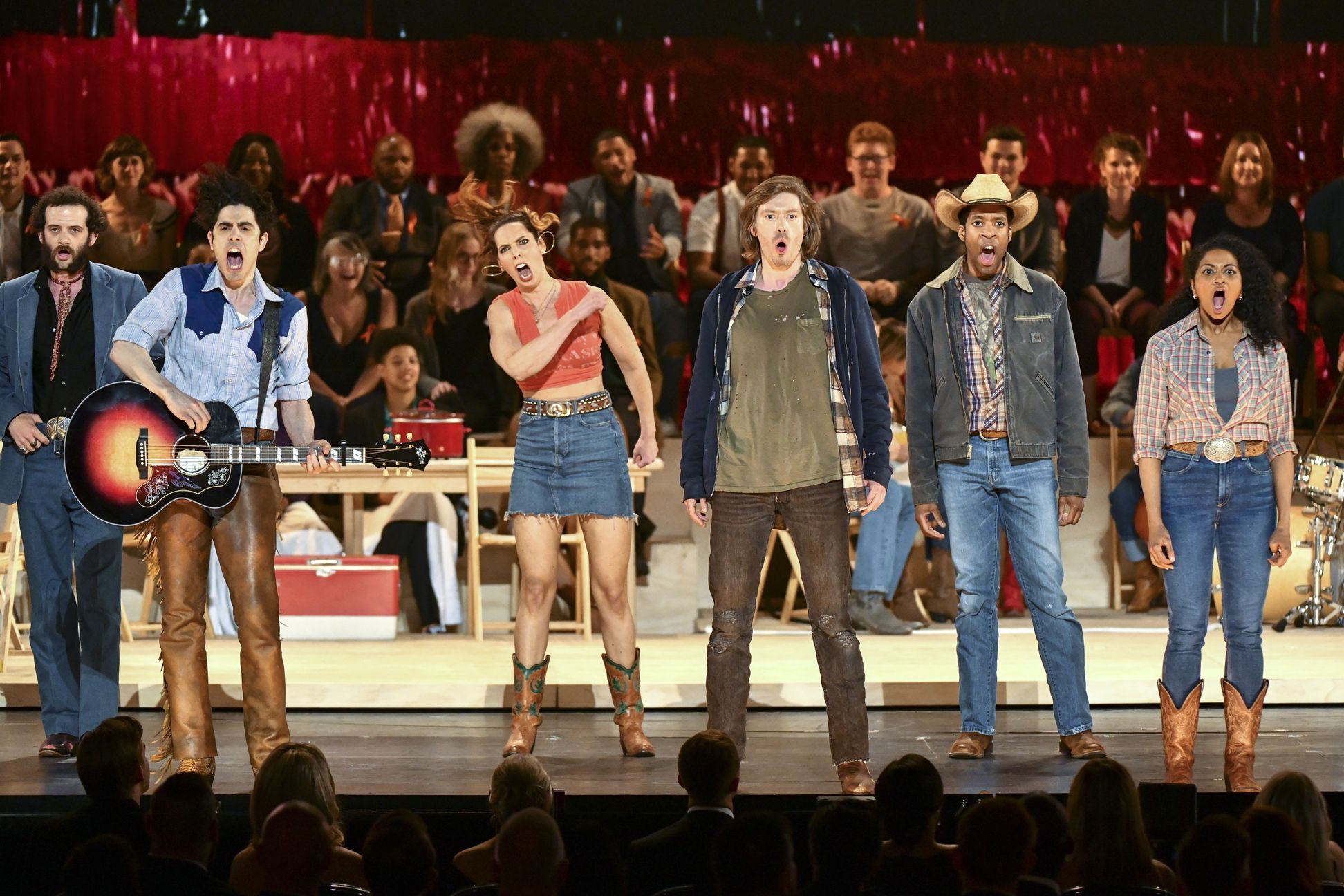 The characters in Daniel Fish's revelatory reimagining of Oklahoma! don't dance around the stage in flashy musical numbers. They serenade each other with an acoustic guitar or accompanied by the string band up next to the actors. The space united the audience, all seated together under fluorescent lights and dinky decorations, with the townfolk of the show, and at intermission we all could walk up onstage for bowls of chili and cornbread. The sense of community was transformative, and it made the audience complicit in act 2's violence and injustice. (As critic Frank Rich put it, the show's ending felt "as if a bomb has gone off in a heretofore pristine paradise.") My mouth was wide open for much of the performance, riveted by the magic unfolding in front of me. Intellectually, I knew that this show was written for white people during World War II, and yet the show I was watching was fresh and relevant.
I'm thinking about this particular Oklahoma! because of Hamilton, of course. Hamilton discourse is back! It's just one more way in which 2020 seems to be the "I'm you, but stronger" version of 2016. It's hard to untangle the opinions and critiques of the production, because its filmed version finally became available for mass consumption at a moment when protesters across the country are tearing down statues of slaveholders. The criticism feels louder, more pressing, and more vital than ever.
I'm the exact target audience for Hamilton: a theatre nerd who also got a 5 on the A.P. U.S. History exam and who's been listening to clipping. since before Hamilton opened off-Broadway. So I think I'm qualified to make the case for Hamilton before we look at the case against it. It's easy — and partially correct — to say that the show became a cultural juggernaut by appealing to mainstream liberals with a safe, sanitized version of the Founding Fathers mythos with a superficial sheen of progressivism. But that dismissal ignores the magnitude of what Lin-Manuel Miranda accomplished.
Because, as a piece of theatre, Hamilton is brilliant. Its character study doubles as a tribute to the power of writing. That, in turn, ties together our national reverence for our Founders' documents with the way hip-hop's storytelling power elevates marginalized voices. The show's central conceit, a hip-hop musical about a historical figure performed by Black and Brown actors, is intended to proclaim that American history belongs to all Americans. The point is reinforced through the references Miranda weaves throughout: nods to theatrical giants like Macbeth and The Pirates of Penzance exist alongside tributes to Biggie, Busta, and Beyoncé, proving that our rap, pop, and R&B heroes have contributed as much to the American cultural canon as the artists who have been deemed highbrow.
The reason that most contemporary musicals don't find a wider audience is that they're not that good. Every year, Broadway sees new adaptations of old movies with forgettable original songs. The musicals that aren't based on any existing property are often unremarkable, filled with basic pop songs and built around stock characters. Hamilton, in contrast, is remarkable not only for its singular vision but for the quality of its composition. This one musical contains "You'll Be Back," the one-two punch of "Helpless" into "Satisfied," "Wait for It," "The Room Where It Happens," "Burn," and "It's Quiet Uptown," and it's possible that this staggering list doesn't contain your favorite melody or lyric. The incorporation of rapped lyrics means the musical can cram in twice as many words per minute as comparable shows, densely packing in more information and jokes. Miranda transforms an issue with the source material, the fact that the historical record is missing information about Eliza Hamilton's life, into a character choice. His Eliza struggles with her feelings on being part of the narrative of her husband's life for all of history, and at a pivotal moment, she chooses to destroy documents completely. This framing gives more agency to her character where another composer could have chosen to sideline her.
Clever tricks abound in this show, like the way the second verse of "Wait for It" starts to crescendo — "I'm willing to wait for it," beat — and then goes into another verse instead of the chorus, forcing us all to wait for it. In that way and in many others, Miranda earns comparisons to the towering giant of musical theatre genius, Stephen Sondheim. Look at the wordplay, internal rhymes, and oscillation between staccato patter and soaring melody. Compare rhymes like Hamilton's "My father has no sons so I'm the one / Who has to social climb for one / So I'm the oldest and the wittiest and the gossip in New York City is insidious" to Sondheim lines like "I'd have kept those beans, but our house was cursed / She made us get a cow to get the curse reversed! / It's your father's fault that the curse got placed / And the place got cursed in the first place!"
But the show's many technical and artistic accomplishments gloss over a huge problem: for as complex as Hamilton's wordplay and meta-narratives are, its politics are often frustratingly flat. The feel-good feminism of the Schuyler sisters' suggestion that the Declaration of Independence "include women in the sequel!," for instance, is a cheap gesture in the style of #girlboss feminism that peaked last decade. The show already accurately depicts Angelica Schuyler as an intelligent, well-read woman who was interested in politics and corresponded with Founding Fathers. Grafting a modern feminist position onto these characters undercuts the legitimate agency that they found within the social restrictions of their age.
More seriously, Miranda also exaggerates Alexander Hamilton's position on slavery, painting him as a staunch abolitionist when, in reality, he bought and sold slaves for his in-laws, the Schuyler family. While the show mentions slavery occasionally, it never lingers on it. Hamilton originally did have a song confronting the issue directly, a demo of which was later released on The Hamilton Mixtape. It's unfortunate that it didn't make it into the show. "Cabinet Battle 3" explicitly depicts the Founding Fathers, including Hamilton, choosing to allow the slave trade to continue. A line directed at Washington ("Sir, even you, you have hundreds of slaves") names the elephant in the room that was largely ignored in the final product, where Washington is depicted admirably across the board.
The song also calls out a more infamous Founder, though its line "How will Thomas Jefferson find his next mistresses?" uses a euphemism. (Perhaps "rape victims" was harder to rhyme.) Another line, "All your hemming and hawing / While you're hee-hawing with Sally Hemings," at least mentions Jefferson's young teenage victim by name, if too facetiously.
Historians believe that Jefferson began having sex with Sally Hemings, his legal property who could not express her consent, when she was 14 years old. With "Cabinet Battle 3" removed from the show, Hamilton's one reference to Hemings is, frankly, appalling. In Jefferson's introductory number, "What'd I Miss?," he mentions a letter on his desk from Washington and sings, "Sally be a lamb, darlin', won'tcha open it?" The Black ensemble member who grabs the letter beams at him as she presents it, shimmying with him to the music with a smile on her face.
Hamilton was directed by a white man, Thomas Kail, and choreographed by a white man, Andy Blankenbuehler. Surely someone on the production team knew enough about history to cut this moment. Its inclusion in the final production is inexcusable.
This mistreatment is part of a much broader debate: how we should feel about the very concept of actors of color playing slaveowners. It can't be denied that the show is a landmark for diverse casting in theatre, creating dozens of roles for nonwhite actors. Broadway's Aaron Burr, Leslie Odom Jr., has said that got chills during "The Story of Tonight" when he saw the first reading of the show that would become Hamilton. "I had never, in my life, seen four men of color onstage singing about friendship and brotherhood. In my life," he said. "And to me, the image of that was the revolution."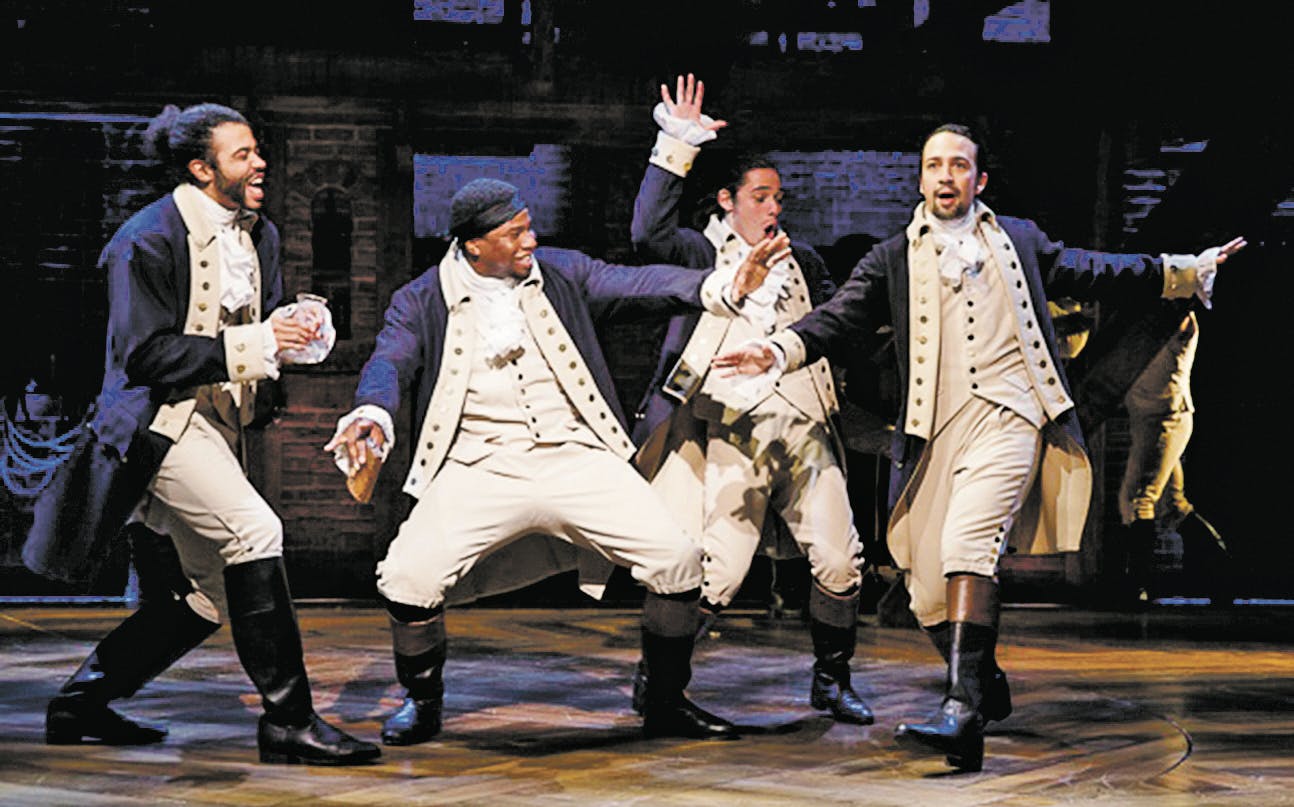 Hamilton proved that imaginative casting choices could pay off and that "historical accuracy" did not need to shut out actors of color. In a 2015 interview on the podcast Another Round, Miranda said that the version of Hamilton licensed to high schools will allow gender-bent casting as well. Critic Helen Shaw described the show's intentionally race-bent casting as a reflection of its Obama-era origin: "The poster of the presidents finally had a Black face on it, and we looked at Hamilton as though it was telling us our future as well as our past."
Since the filmed version's release, OBC cast member Daveed Diggs has spoken a few times on the paradox of the show's casting. In a feature for The Undefeated, he said, "By putting Brown people at the center of that story means what you're really saying is 'we built this country too.' And so, if you watch this movie and you feel a sense of pride in the America that you see in this movie, you should then be inspired to take action to make that the America that you see in real life." In a Vulture discussion with castmate Okieriete "Oak" Onaodowan (beginning at around 14:00), Diggs points out that the musical does depict its characters as flawed. "To me, what the show is implying is that there are deeds and words and actions of people that are still instructive to us, and the things we don't agree with are instructive to us," he said, though he acknowledged, "Maybe we're at a time where that's not good enough." Diggs and Onaodowan also discussed the limitations of art controlled by white gatekeepers. Onaodowan opined that the show was perhaps able to get produced and achieve mainstream success because it glossed over the sin of slavery, and he added that this wide reach in turn allows for a broader conversation as audiences and critics grappled with its depiction. Diggs responded, "Obviously, representation in all of these spaces is the thing that will help us be able to have these conversations within the art instead of framing the art as a thing to react to." (Of the legacy of his character, Thomas Jefferson, Diggs was clear: "Tear that motherfucker down. I don't need a statue of that dude.")
Miranda, for his part, has curiously implied that the show is not inherently political. In the Undefeated feature, he said "If there's anything really political about the show, it's that the fights that were present and the paradoxes that were present at our founding still exist." His answer hasn't changed since the show first opened; in a 2015 interview, he said something similar:
"I'm a pretty politically moderate guy. I obviously grew up in a Democratic household; my dad is a Democratic political guy. And yes, I would say my politics absolutely affect it, but not politics in the capital P sense of gun control or abortion rights or any of these hot-button social issues. To me, the biggest political takeaway of this is that our founding fathers were not Moses and they did not get tablets from on high. They had fights and they compromised and they did their best to hold this fragile thing together. And they were making it up as they went along and so are we."
Black writer Ishmael Reed has been one of Hamilton's harshest critics. In 2019, he staged a reading of his play, The Haunting of Lin-Manuel Miranda, which Toni Morrison partially funded. The show's official description said it was about "a playwright who is misled by a historian of white history into believing that Alexander Hamilton was an abolitionist." In it, Miranda must defend his work to the visiting ghosts of Native Americans and the Schuyler's slaves, among others. Reed is not the only writer to take issue with Hamilton's complete omission of Native Americans. In her piece, "The Complex Violence of Hamilton," Imani Vaughn-Jones says:
One of the show's most famous moments is when the cast boldly proclaims "Immigrants, we get the job done!" While well-intentioned, this line is violent at its core because it absolves the Founding Fathers – and the white audiences watching – from having to truly face the brutality that came with the founding of America. The Founding Fathers were not immigrants. They did not move to a country in hopes of joining the culture, enriching the community, and bettering their lives. They came to steal, rape, and destroy. They came to "civilize" the "savages" of the land. They're not immigrants – they're colonizers. To call them anything else is a gross disservice.
Miranda, for his part, has acknowledged the latest round of critiques of the show in a Twitter conversation with Another Round co-host Tracy Clayton.
The complexity of this debate proves that Hamilton can be interpreted many ways, which is the entire point of theatre. Audiences are currently reacting to a production that was sealed in amber in early 2016, and problems with the source material have become even more obvious with the passing years. The entire art form exists so that a text can be interpreted, generation after generation, by living, breathing humans in the same room as their audience, everyone absorbing the story through the lens of their current perspective. Daniel Fish's Oklahoma! is the best example of this flexibility that I've ever seen. Without changing a word of the text, he dug out the paranoia, violence, and prejudice inherent in Rodgers and Hammerstein's cheery musical, turning a show about American gumption and resilience into one about the brutality of American insularity.
Our theatre community is currently grappling with its own institutional racism. Hamilton's diverse casting didn't fix those problems anymore than Obama's election ushered in a "post-racial" America. (As one friend put it when discussing the show with me, "For all the Hamilton worship, where was that energy when Oak was speaking out against the racism that happened while he was at Great Comet?") Future productions of Hamilton can choose what they emphasize for their audiences. An actor with more distance from the material could portray Hamilton less sympathetically than Miranda did when originating the role. A Black female director would certainly stage the Sally Hemings interaction in "What'd I Miss?" much better. I'm interested to see how flexible the show's licensing agreement is; if Miranda is as concerned with his legacy as his protagonist is, he'd allow "Cabinet Battle 3" to be put back in. Hamilton is part of the canon now, and it's up to theatre artists to grapple with what the show means to their America.
---
More like this:
"I didn't feel empowered by Sucker Punch"