Well, I'LL talk about the 2009 Carrie Underwood All-Star Holiday Special if no one else will
Fine! I'll do it!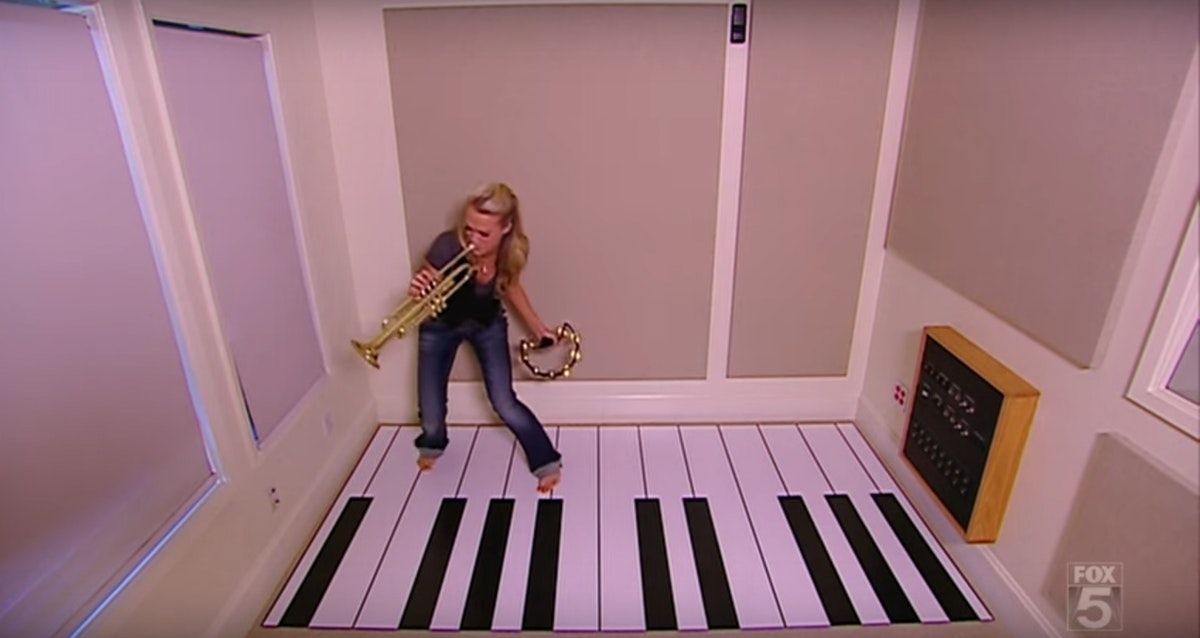 Surprisingly little scholarship exists on the 2009 made-for-TV spectacular Carrie Underwood: An All-Star Holiday Special. This is an outrage! I discovered its existence this weekend, and I'm here to fill that void.
I can't explain why Carrie Underwood: An All-Star Holiday Special existed, nor why it contained only two holiday songs tacked on at the very end despite being called a holiday special. I can explain why the opening number was vampire-themed, as can anyone who remembers 2009: this was the height of Twilight mania, and the country loved nothing more than sculpted pretty boys who could suck your blood at any moment. I have nothing to offer by way of explanation for her one brown fingerless glove. I can confirm that guys did wear vests to look cool back then.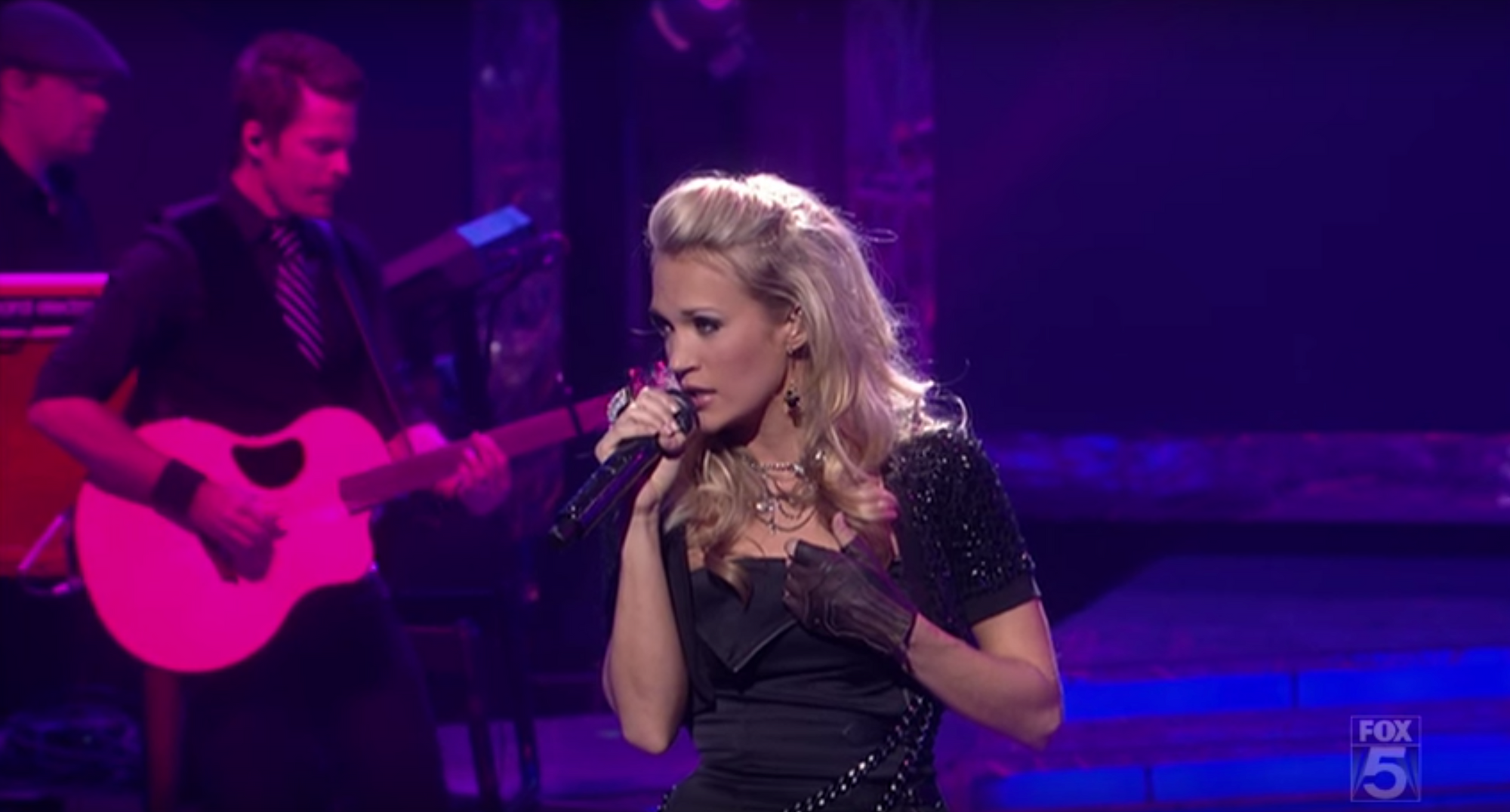 Carrie Underwood is a great singer and very charming, though that does not necessarily mean that she should host a variety show. But she did and I watched the whole thing! She introduces the special by saying that it would allow her to share a behind-the-scenes look at her life with the world. Did the world want that? Am I forgetting some kind of international Carrie obsession?
The show is made up of performances in front of an all-white studio audience and pre-taped comedy sketches. Some of these succeed more than others. The first sketch of the night is "behind-the-scenes footage" from her time on American Idol that shows Carrie bribing the judges, threatening Seacrest and psyching out her competition. It's all very corny, but I do want to commend runner-up Bo Bice for showing up four years after losing to Carrie to re-enact scenes of losing to Carrie for Carrie's all-star holiday special.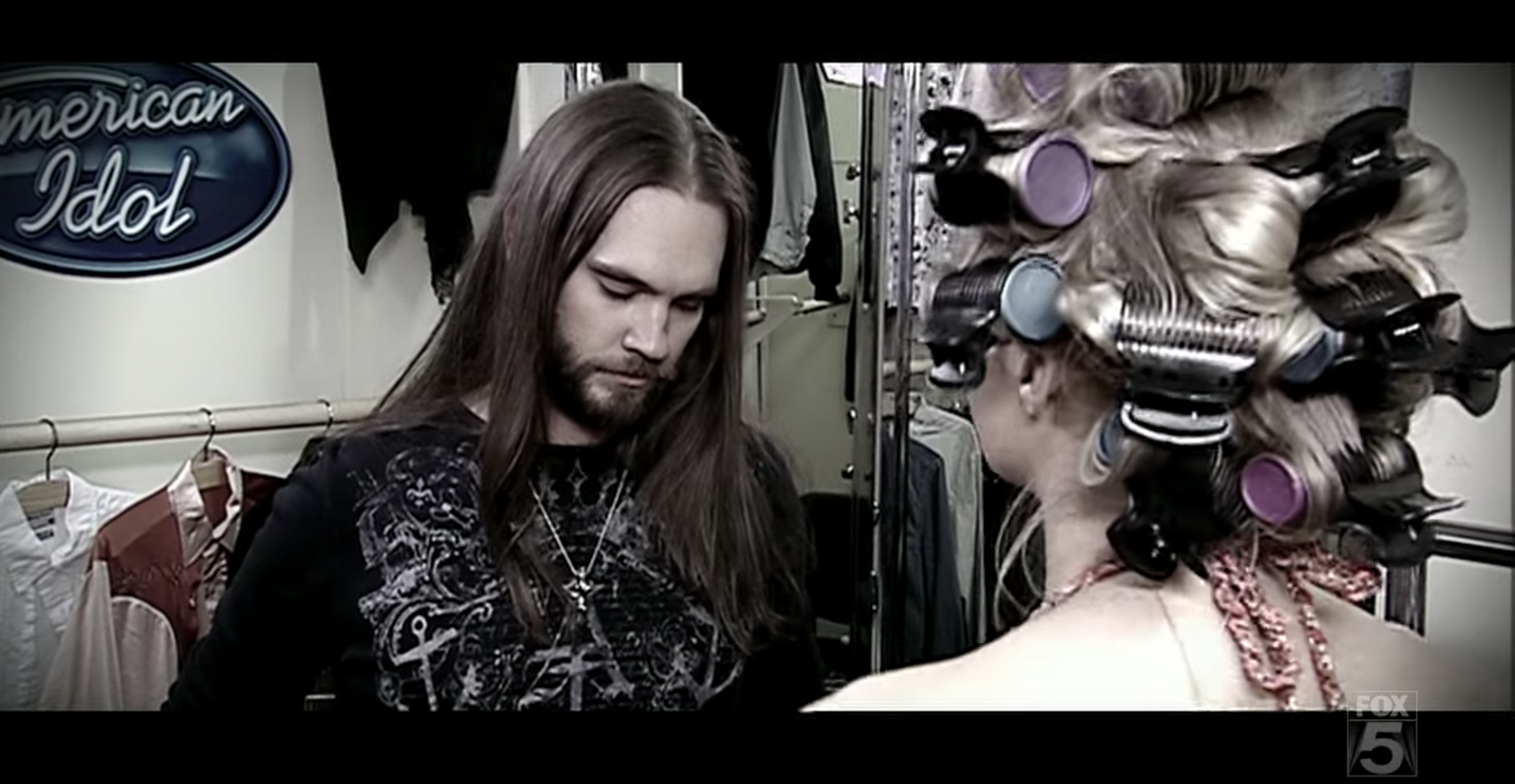 Equally groan-worthy is a skit where Carrie wonders what her dog is thinking and we get a montage of her dog's narration, voiced by go-to 2009 funnyman Neil Patrick Harris. It's mostly noteworthy because the theme is her dog getting deeply jealous of Carrie's fiancé and a cute admiring fan who flirts with her, leading me to wonder if the implication was that Carrie Underwood was dating her dog.
A running joke is Carrie's quest to find a date for her sister Stephanie. First she introduces her to Carson Kressley and is shocked to find out that he's gay. What a surreal bit of 2009 humor! "No, that's just something his publicist told him to say so he could fit in more with Hollywood," Carrie tries to rationalize, confoundingly. When reminded of Kressley's biggest claim to fame, she retorts, "Queer eye, Stephanie. That doesn't mean the rest of him is!"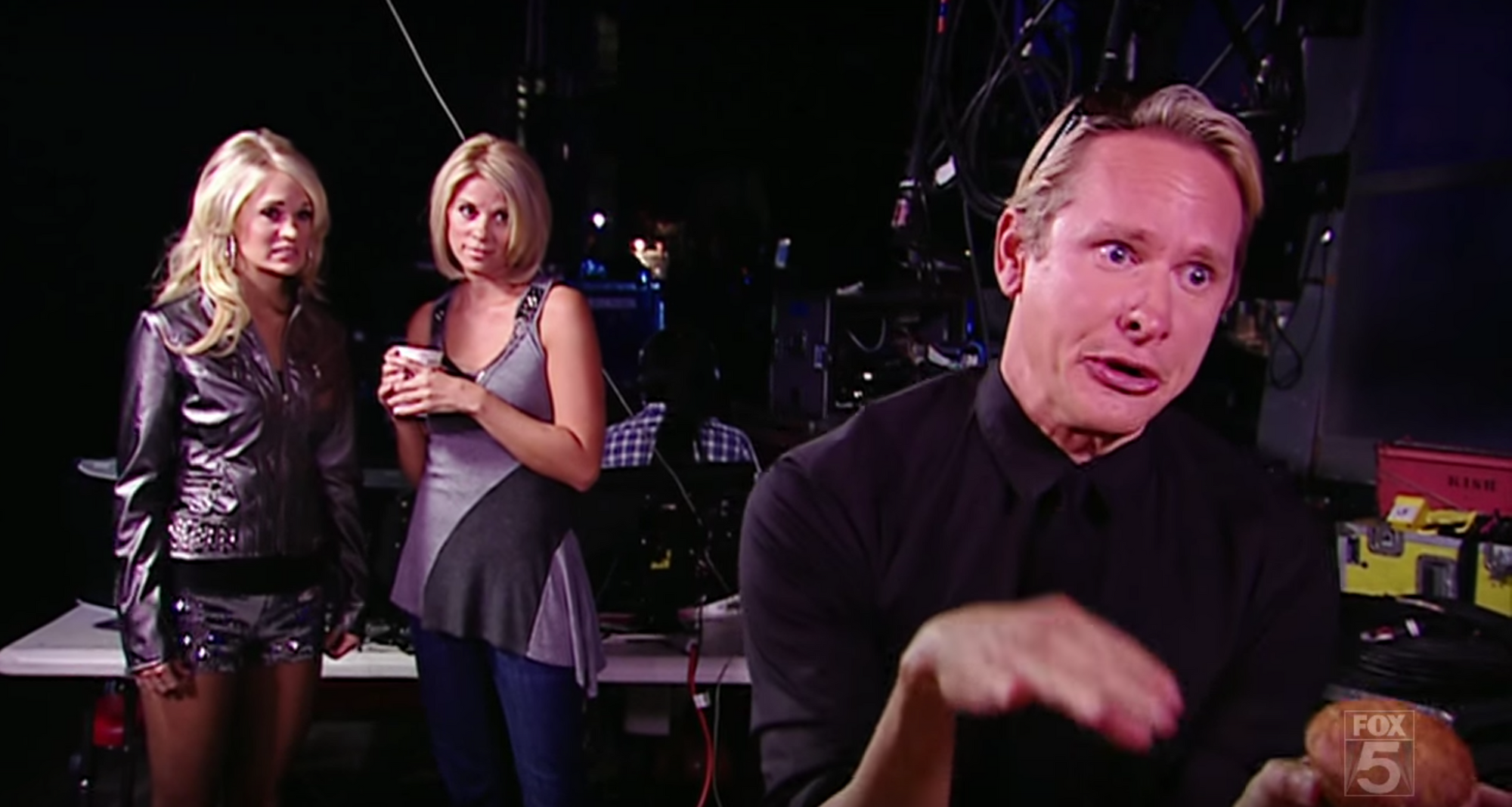 She later introduces Stephanie to "Johnny Depp," who turns out to be a Depp impersonator. Well, Stephanie dodged a bullet there. But later Carrie brings in "Jack Nicholson," who's also an impersonator. That's just the same joke twice! I think all of this would have played better if the concept were introduced as Carrie trying to use her all-star special to set Stephanie up with someone famous. As it is, it just feels pretty random. This subplot concludes when Carrie introduces Stephanie to one of her dancers, whose profession leads Stephanie to assume that he'll be as gay as Carson Kressley. "Have you ever had a fat-free scone?" she asks him as a test. "No, I would rather kill myself," he responds so flatly that I laughed out loud. Props to this heterosexual and his hideous dragon shirt.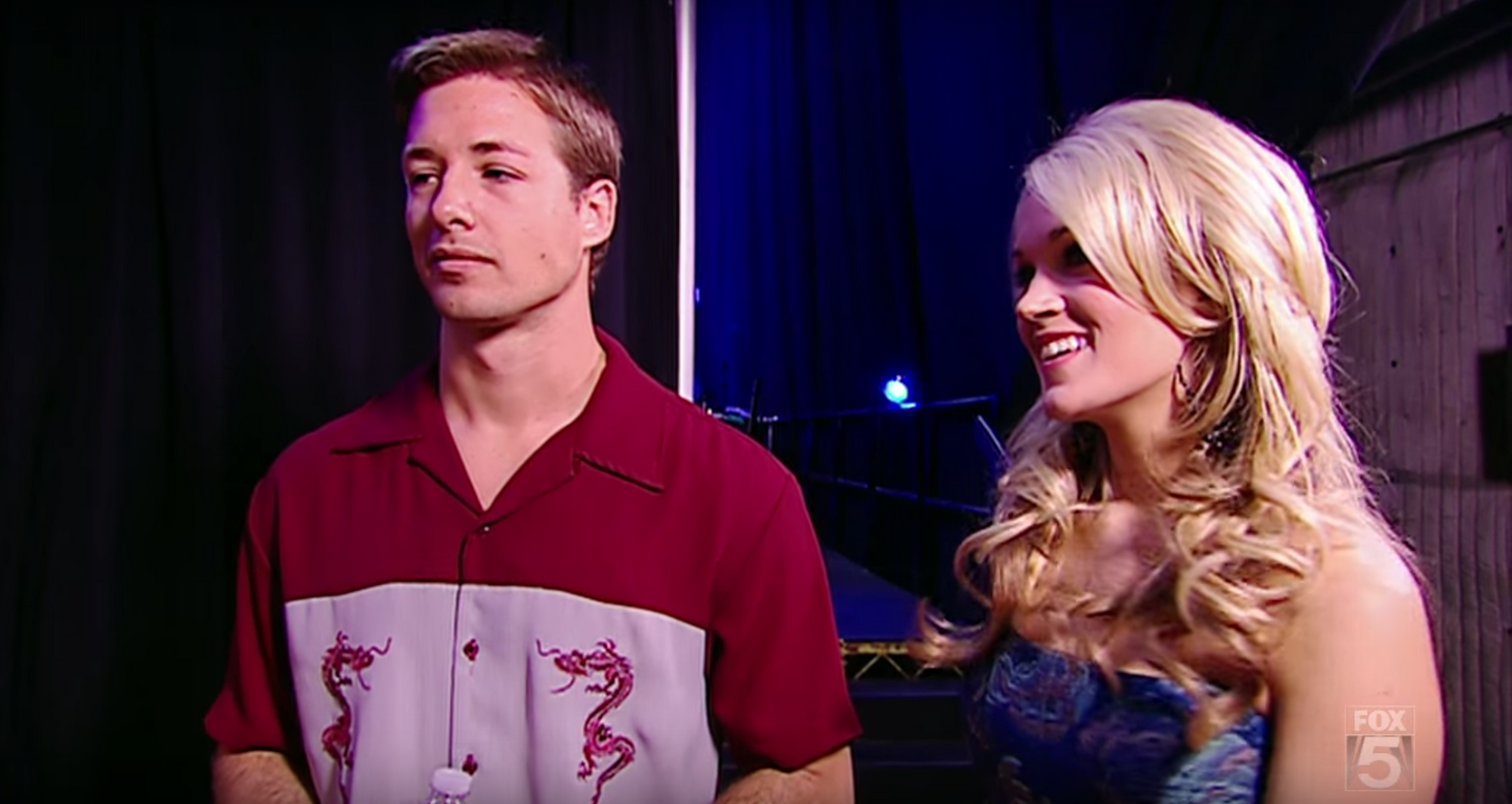 Stephanie isn't a good actress, but she could be a lot worse. For a bunch of non-actors, the Underwoods hold their own! I was particularly surprised by the scenes involving Carrie's mom, who was so much better than I expected that I checked Carrie's Wikipedia to see if her mom did local theater or something. (She didn't, from what I can tell.) However, I don't think that Mrs. Underwood and Stephanie were the stars that the audience hoped for in an all-star holiday special.
Even the bona fide celebrities couldn't make some of this material work. By far the most bizarre sketch is a supposed rehearsal session with Kristin Chenoweth and Christina Applegate that mostly consists of the three women rattling off how many awards they've won.
The jokes are all either half-formed — there's a bit about Kristin getting excited that they're all from Oklahoma, only for Christina to reveal that she's not from Oklahoma — or don't land. Then they do a 60s girl group medley that's completely tonally off from the rest of the show, which is not a kitschy costume affair.
This special was produced by American Idol creator Simon Fuller, which is obvious because two performance slots are given to then-reigning Idol champ David Cook and Sons of Sylvia, the winner of another Fuller show called Battle of the Bands. For those of you keeping track, the stars of this all-star special are Bo Bice, Ryan Seacrest, Carson Kressley, the voice of Neil Patrick Harris, a Johnny Depp impersonator, a Jack Nicholson impersonator, Kristin Chenoweth, Christina Applegate, David Cook, Sons of Sylvia, and Carrie Underwood's sister and mom.
The special does feature two big-name stars, though. Brad Paisley is involved, technically. He appears during a "live" video chat (it was absolutely pre-recorded) for a virtual duet with Carrie and then his own solo performance. I would argue this was a bad choice.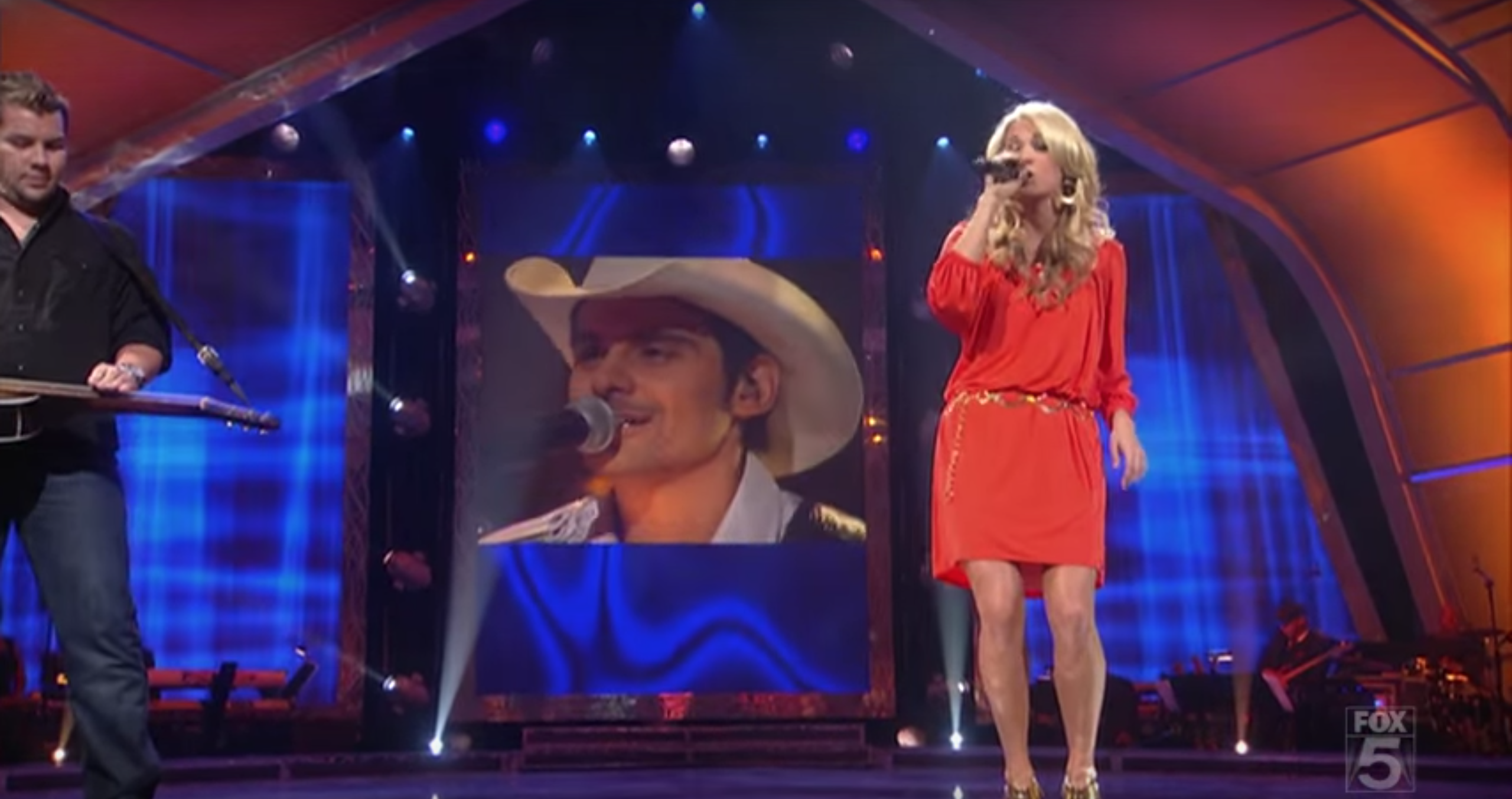 And then Dolly mothafucking Parton shows up!! That was both a very good choice and a very bad choice — bad for Carrie because Dolly runs away with the show. She was so funny, charming and talented that I found myself wishing it was a Dolly Parton variety show. Sorry, Carrie!
Dolly sold all of the silly material so well that I wondered if some of it was her own ad-libs. In a dumb bit where Carrie tried to dress like her, Dolly quipped "We look like we could be working down on the corner together!"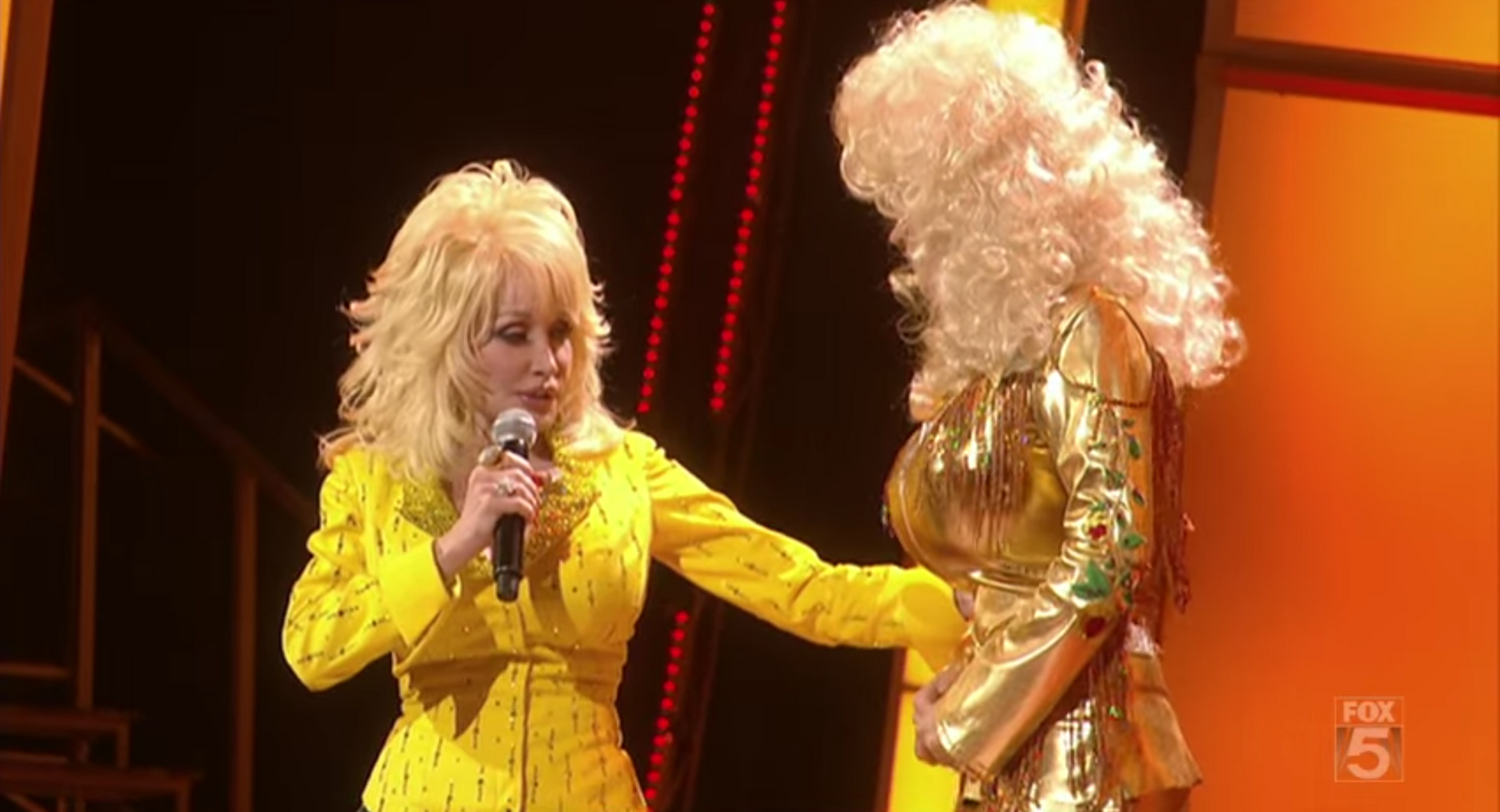 Finally, 90 minutes into the holiday special, Carrie announces that it's time for some holiday songs. In an angelic gown in front of Christmas trees and fake snow, Carrie kicks off this portion with a holiday classic, "Jesus Take the Wheel." Well, that's not right. Christmas is about Jesus as a baby. He can't drive yet.
Dolly sings an actual Christmas song and Carrie sings "O Holy Night" and sounds lovely, of course, but then the show ends on an absolute bummer of a closer. Carrie reminds us that this time of year is about giving and begins singing a song about how depressing the world is and you should try to help, backed by screens showing contextless clips of her hugging children in Africa. The song, called "Change," is ineffective, because the song's structure has verses that talk about helping strangers, and the bridge asks if you'd just tell yourself that it was useless. The problem is the chorus, sung with full conviction by Carrie, is the depressing inner monologue, so the most powerful part of the song is Carrie singing "You're just a fool, just a fool to believe you can change the world!" That's backwards, Carrie! The verses should contain the depressing parts so the chorus can be uplifting! As it is, it really feels like the takeaway is that helping others is useless.
So this special ends with a choir backing her up, the credits rolling under heavenly voices repeating over and over "You're just a fool, just a fool to believe you can change the world." Thanks for that, Carrie Underwood!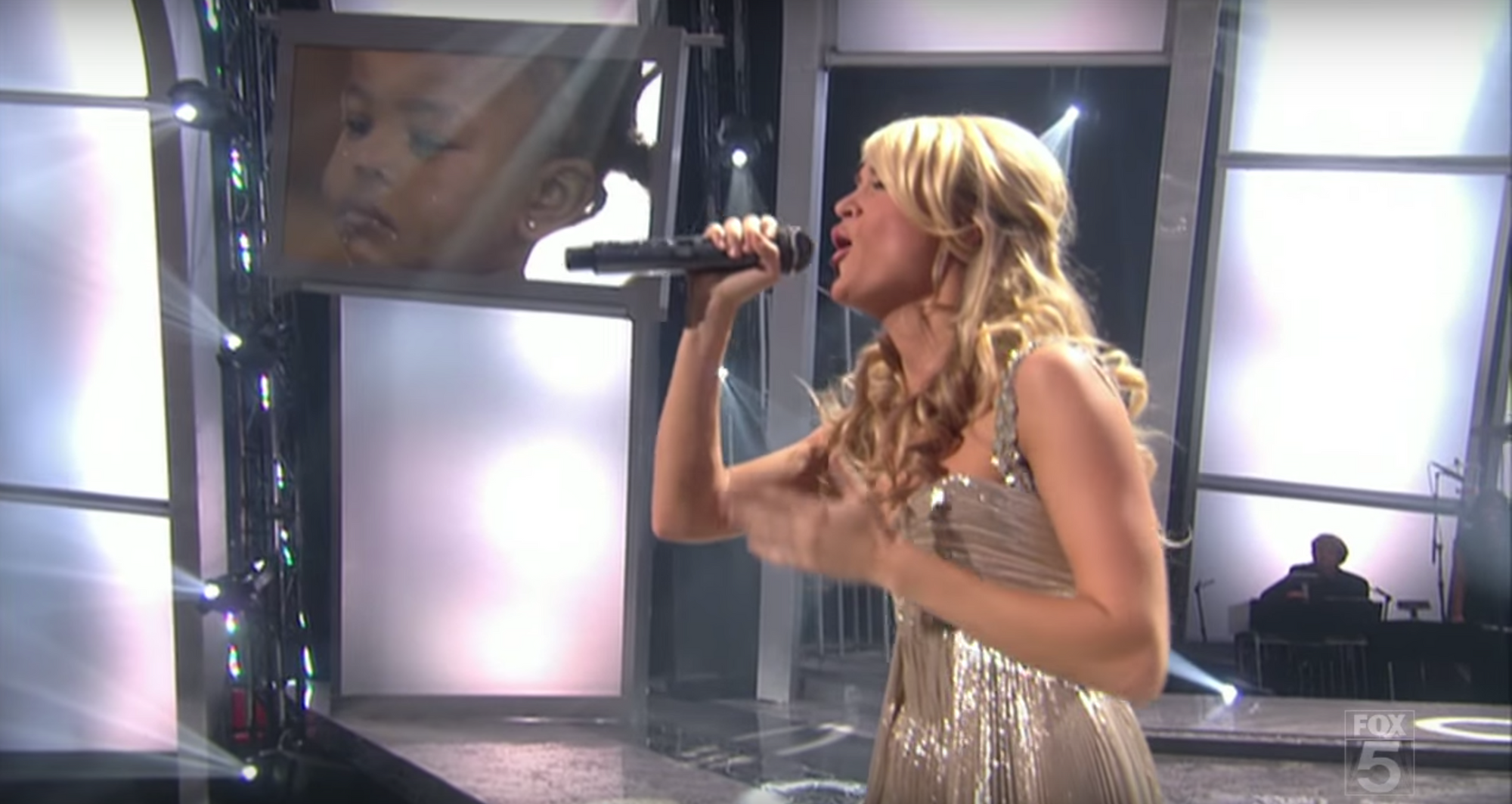 Honestly, the special wasn't all bad. Obviously, I'm not gonna say that you should seek it out, but if we went back in time to 2009, I'd tell you that you wouldn't mind watching it with your family when you're home for the holidays and no one feels like watching A Christmas Story yet.
I learned that Carrie has a deep cut called "Songs Like This" that begins with her growling "Wanna find some boy, rip his heart right out / First man I see, gonna take him down." To borrow the parlance of the time: EPIC. Why was this not a single? Was her team wary of her getting pigeonholed as the vengeance girl after "Before He Cheats?" She does it so well, though!
I also appreciated the reminder that fashion back then was about looking like a pretty emo cupcake. I would have worn that dress in a heartbeat, because 2009 was far before I accepted that I look terrible in strapless dresses.
I even liked one of the sketches. Because I love a bizarre moment, I was completely on board for a Behind the Music-style look at Carrie's songwriting process that was played seriously but intercut with scenes of her playing silly instruments. I laughed!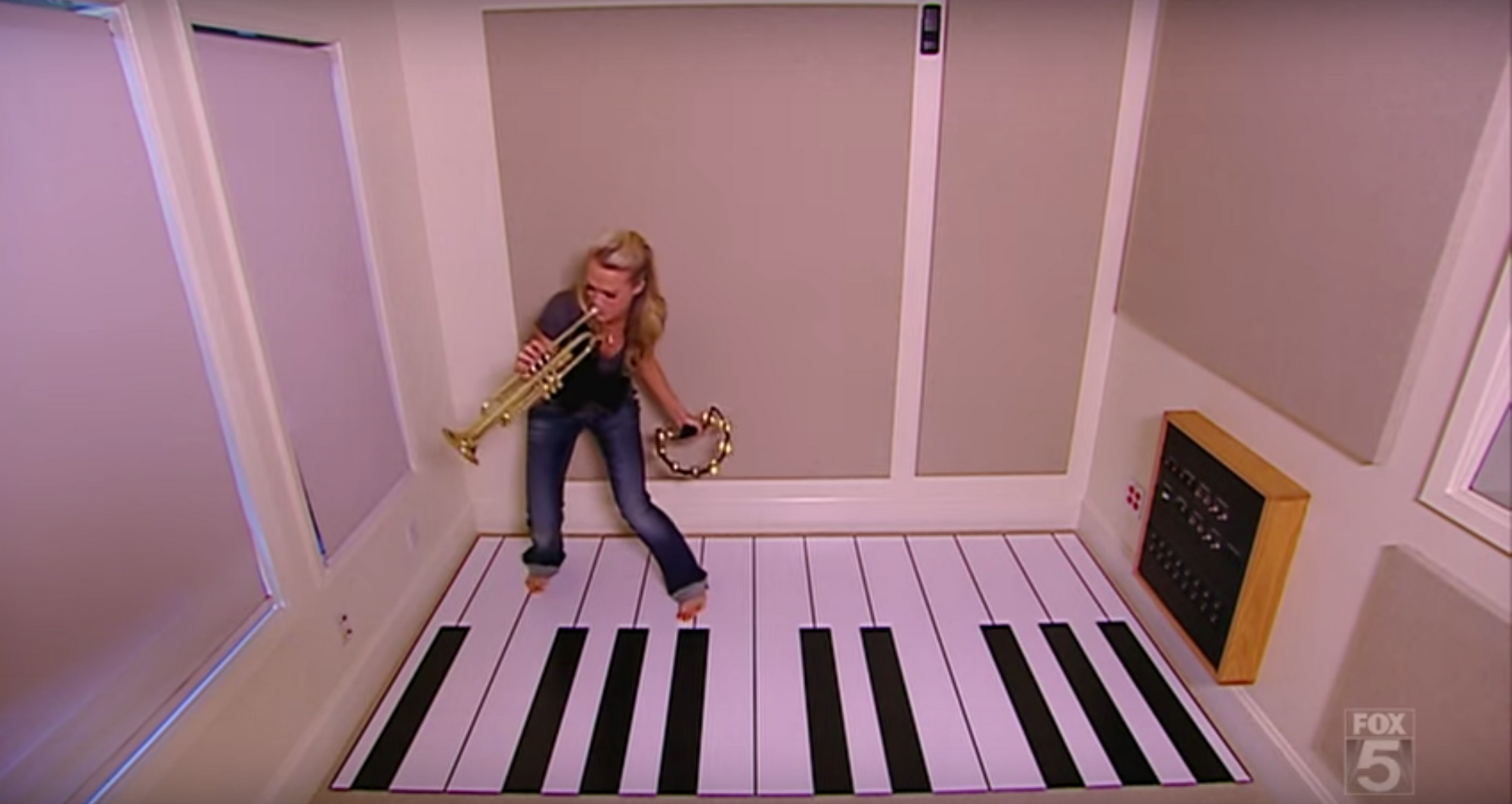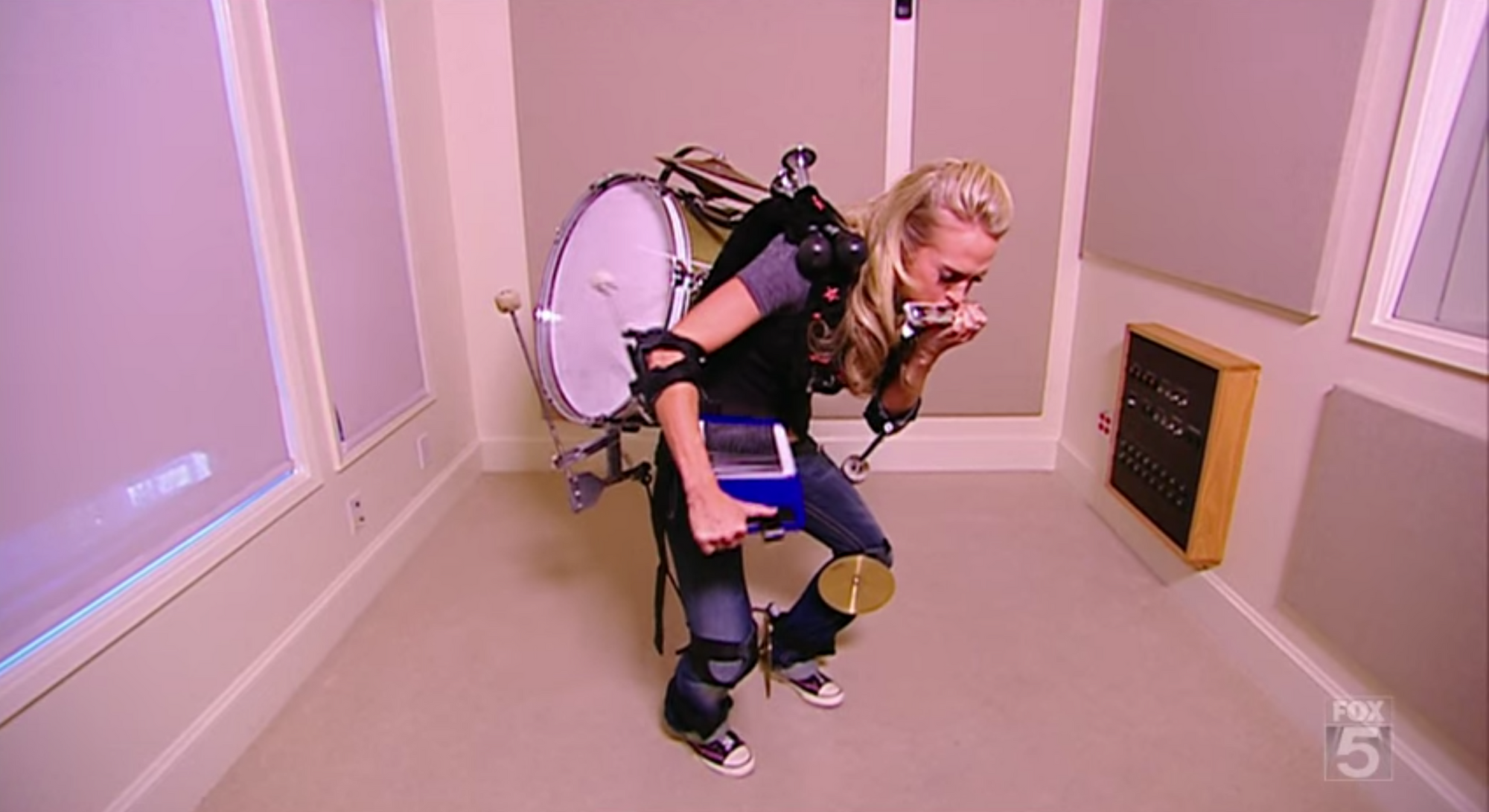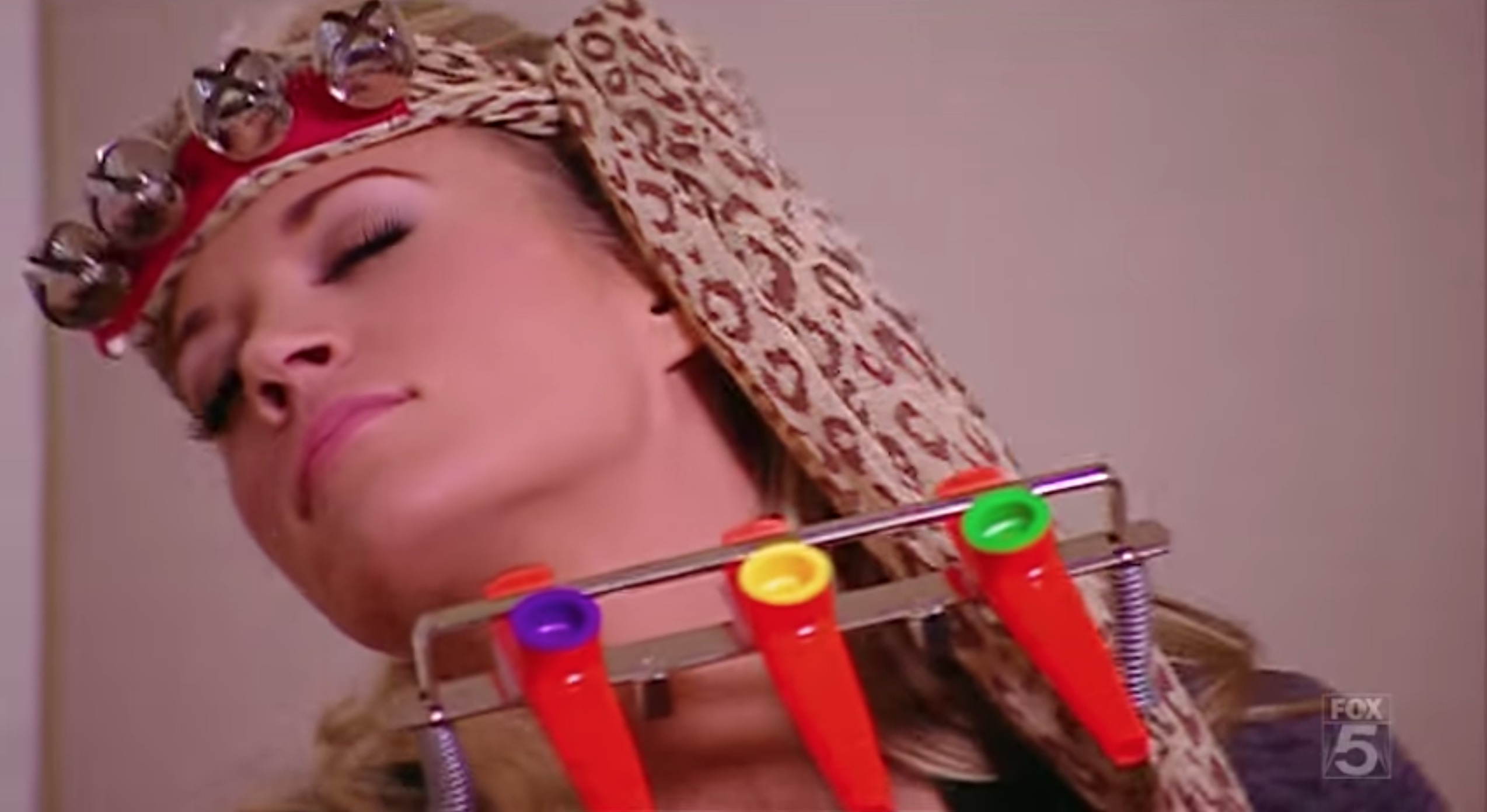 I guess my takeaway here is that I'm not surprised that Kelly Clarkson is the American Idol alumna with her own talk show. But Carrie Underwood is certainly fun and likable, and I want her to have another crossover smash. She should collaborate with Lil Nas X.
The whole experience made me look up Carrie's Idol audition, which I don't know if I'd ever seen before. It consists of the two male judges — Paula is absent for some reason — flirting outrageously with her and bringing up the quirky facts that the producers clearly made her supply but which she seems horrified to have to confront. Simon prompts her with the question "Did you have something you shouldn't have had?," a bizarre question that I assumed was insinuating that she was drinking before her audition or something. Absolutely nothing could have prepared me for the flustered 21-year-old Carrie responding bashfully, "it was a third nipple."
A star is born, baby!!!!