Can Chrissy Teigen bounce back?
The model's new cookbook is out this week. Why did the public turn on her, and will they come back around?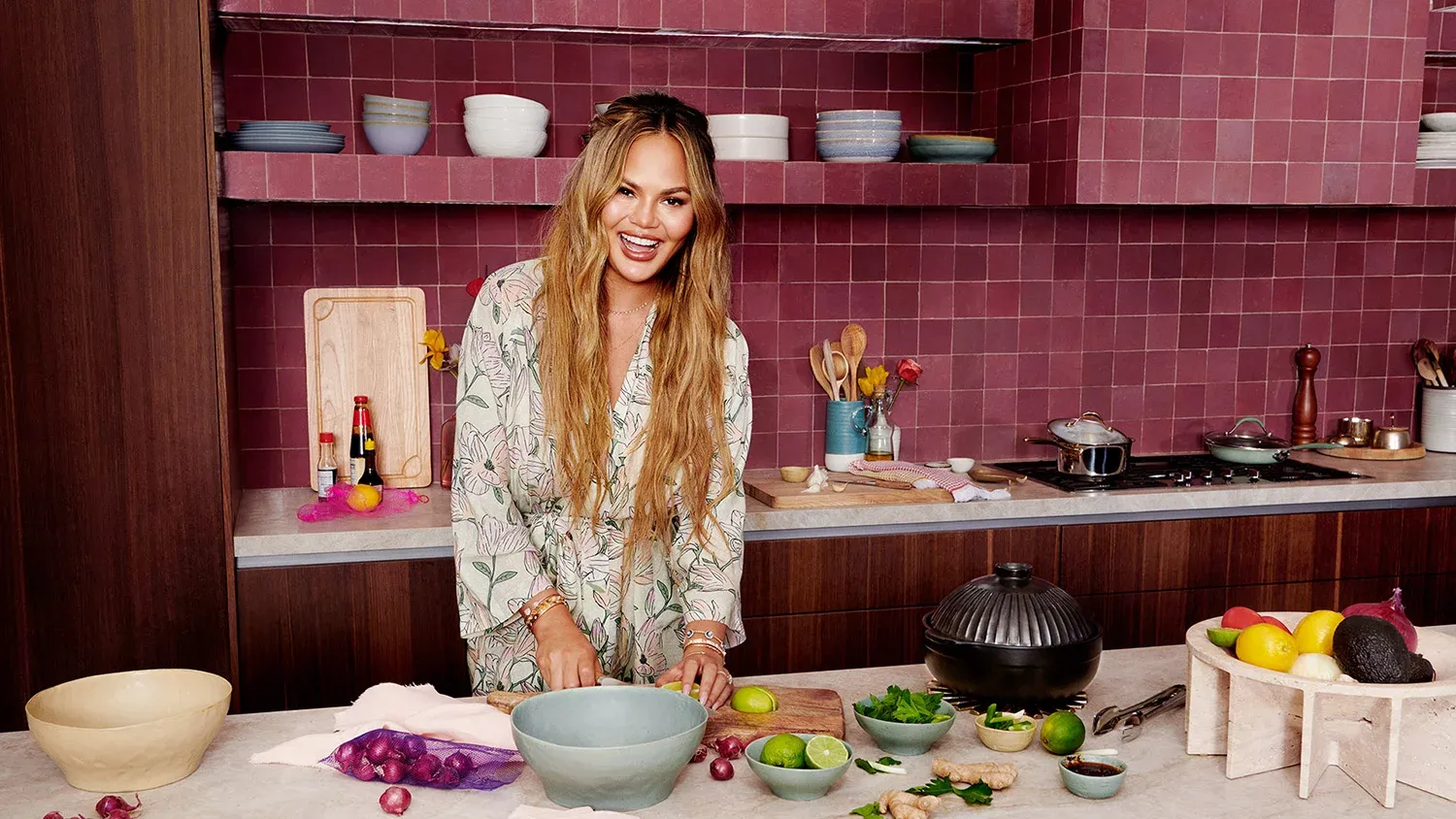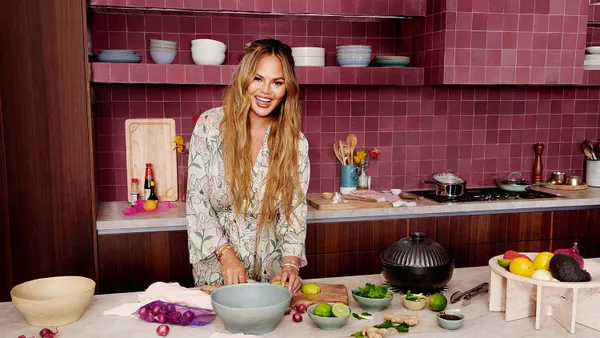 I'll admit it: I always enjoyed Chrissy Teigen's social media presence.
This isn't a niche opinion by any means – Teigen has millions of followers on Instagram and has been called the "Queen of Twitter" and its "unofficial mayor" – but even before her official fall from grace, the backlash against her has grown every year. Many Teigen haters simply found her annoying, while leftist Twitter takes issue with glorifying the wealthy.
I get both objections. But Teigen's brand always worked for me, even as someone who doesn't follow many celebrities on social media. She's genuinely much funnier than most famous people, for one thing. She generally hit the right tone for me, right in the center of the spectrum from misguided attempts at "relatability" to tone-deaf flaunting. Teigen always treated being rich and beautiful as a fact that we all accepted, information that we all knew about her that was too mundane to be remarked upon. I prefer this approach to the false modesty of someone like Anna "scrappy little nobody" Kendrick, for example. (Kendrick, a beautiful woman who was nominated for a Tony at age 13 and an Oscar at 24, had a Twitter bio for years that read "Pale, awkward and very very small. Form an orderly queue, gents.") And I'd certainly rather keep up with the Teigen-Legend household than with any of the Kardashians. While Kim, Khloe, and Kylie might deny the procedures and Photoshopping that go into creating their images, Teigen posted live updates when getting her breast implants removed and once joked "Everything about me is fake except my cheeks."
There is, strictly speaking, no normal way to care about celebrities. The healthiest approach would be to consume their TV shows or movies or music and stop there, reading no supplementary interviews, not following them on social media, and never watching them share humanizing anecdotes on late night shows. You could just live your life and never think about the people behind the art. But that's not how the entertainment ecosystem is set up, and it's not really how human beings, who are pretty social creatures, relate to the people they see on the TVs in their homes all the time. If, for instance, you invest in the creative output of a comedian who tells stories about his recovery from addiction, happy marriage with his wife, and comical insistence that he'd never want kids, you might have strong opinions if he were to very publicly relapse, leave his wife, and get another woman pregnant. You might have opinions on Ben Affleck and Jennifer Lopez getting back together 17 years after breaking off their engagement. You might care if the biggest pop star in the world puts out an album about her husband, himself a music icon, cheating on her. Gossip is fun, for one thing. For another, part of the way we critique art is tied to the artists involved. That's especially true because the entertainment industry is a business, and the ways that celebrities navigate that business is worth analysis.
Teigen, the only former Deal or No Deal model to have built an empire without marrying literal royalty, has obviously navigated the business very, very intelligently. She's leveraged her bubbly personality, love of cooking, and social media savvy into hosting gigs and a hugely successful cooking brand. She and her husband John Legend are A-list superstars now, and their brands are inextricably linked. The two met on the set of a music video in 2006, just two years after Legend's debut album and early in Teigen's modeling career. Since then, as his wife has continued her ascent, Legend has been a judge on a reality singing competition, appeared in films like La La Land, and become one of the youngest people to EGOT. The couple clearly worked together to get to this stage in their careers; Teigen obviously benefitted from her partner's fame when she was unknown, and Legend's brand as a family man, activist, and celebrity has been boosted by Teigen's oversharing social media presence.
And while most stars today are the obvious beneficiaries of nepotism, Teigen and Legend both seem as self-made as it gets. Legend (legally John Stephens) grew up one of four children of a seamstress and factory worker. His mother struggled with addiction and was absent for much of his childhood. Teigen's dad was an electrician. Her mother, nicknamed Pepper, immigrated from Thailand after meeting him, and the couple lived in a trailer before their daughter was born. Pepper also disappeared from her children's life for a period, returning to Thailand to care for her elderly parents and then staying there for months due to her depression when they both died unexpectedly. Teigen was working two retail jobs as a teenager when she was discovered and recruited for her first modeling job, and she was living in an apartment with six other models when she began dating her now-husband. You don't have to root for any celebrity, but with those backstories, they're easier to root for than many others. Legend, the son of two working-class people in Ohio, is the only Black man to achieve the EGOT. Teigen's Cravings line might not be Goop yet, but Gwyneth Paltrow, the daughter of actress Blythe Danner and director/producer Bruce Paltrow, never worked for minimum wage at a surf shop or hustled for auditions early in her career.
Technically, I don't want ultrarich people to exist, in that I want a huge increase in taxation on them. I despise Elon Musk and Jeff Bezos, two sociopaths who contribute nothing to society while hoarding most of its resources. But I don't begrudge Teigen and Legend for having a nice house. Catching glimpses of it on Teigen's Instagram brings me a lot of joy, as someone who loves interior design but lives in a small New York apartment. That's part of the reason why I follow any celebrity on social media! It's a form of escapism! I don't know what we should want from rich celebrities, but I've always been fine with what the Legend household does with their money. They both contribute to a number of charitable causes, but most notable to me is the fact that they funded food trucks to feed Black Lives Matter protesters in 2014 and then again in 2020. When Teigen tweeted that she'd give $200,000 to bail funds to free protesters, other celebrities were inspired to match it or contribute what they could. You can find #Resistance liberals corny, especially in Hollywood, but at least these two have always backed it up with actual financial support.
The first serious phase of the Teigen backlash online, from what I can tell, came in response to way dumber ways to burn money. In November 2019, she tweeted about her mom always losing her Airpods and buying new ones, an incredibly tone-deaf setup for a punchline about them needing a cord. She apologized for the joke, which she called "tone-deaf and icky," and promised to "do better to not be such an asshole." A little over a year later, though, in February 2021, she shared a similar, worse story that resulted in so much furor that she was briefly trending on Twitter.
This time, though, she doubled down. "Hey, not everything I say on my twitter is going to be relatable to you because it is my life and my twitter and my stories," she tweeted. "I see your tweets, I get your jokes, you are so funny, yes, you really nailed me." Then, about a half hour later: "honestly, I will be that person for you. it is fun to gang up on me. I *see* the convos that bring you together in your owning of me. I make it easy. have fun."
The pandemic, which laid bare America's egregious wealth inequality, made it harder for many people to stomach Teigen's oversharing. I also saw Twitter grumbling over her Teigen's Halloween posts, in which she said she "made" her nurse dress as a Medieval plague doctor. But for the most part, these mini-scandals never left Twitter. In the eyes of the general public, she remained the same lovably frank supermodel with a beautiful family and a knack for getting under Trump's skin.

2020 had been a hard year for Teigen, too. In August, Legend released the music video for his song "Wild." It was the third in a trilogy of sorts starring Teigen: they had met on the set of "Stereo," then "All of Me," shot in the place they first vacationed together, celebrated their love. Now "Wild," which also featured cameos from their two children, revealed that Teigen was pregnant with their third. She remained as candid as ever throughout her pregnancy, even posting updates when she was hospitalized several times to address complications. In September, they tragically lost the baby, who they'd been calling Jack. Many criticized her decision to post pictures from the hospital, but others praised her for helping destigmatize something that so many pregnant people go through. She continued to post about the aftermath of their loss, openly discussing the physical ailments and mental anguish she was working through. (The same afternoon that she tweeted about the $13,000 wine, she also posted that it was the week of Jack's due date, admitting she was "a bit off." As angry tweets flooded in about the wine story,  she fired off a more frustrated post about people trying to "own this rich bitch for retweets" when she was feeling "anxious [and] sad" around Jack's due date.)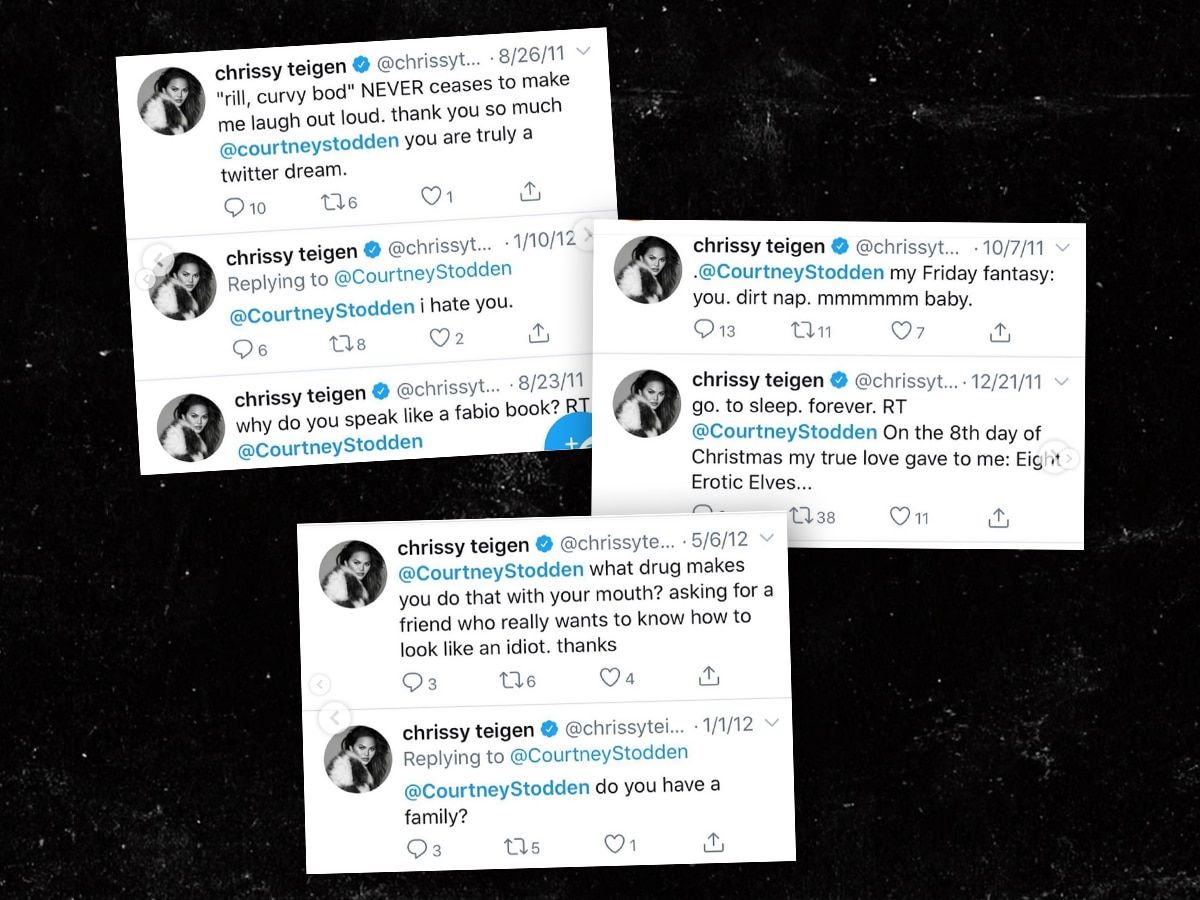 Then came her actual "cancellation." (I'm using it in the colloquial way that we throw it around nowadays, for offenses ranging from off-color tweets to sexual assault and despite the fact that celebrities rarely face actual consequences for their actions.) In Teigen's case, the scandal was cyberbullying. In 2011, when the internet was a snarkier place and being mean was a ticket to clout, the curious case of Courtney Stodden and Doug Hutchison became an easy punchline. Hutchison, 51, was a D-list actor who had appeared on Lost. Stodden was the 16-year-old child he married. TMZ called them "cradle robbing champs," while Gawker described the obviously abusive situation as "freakshow antics." This year, a decade after their marriage to Hutchison first put them in the tabloid crosshairs, Stodden revealed that Teigen was one of their harshest bullies.
After Teigen announced she'd be taking a break from Twitter due to harassment, Stodden posted a (since-deleted) video to Instagram saying that they found Teigen's decision ironic because the model used to publicly tweet that she wished Stodden would die. "It was just so hypocritical of her," Stodden said. "I think, for me, because I experienced so much harassment and bullying from her when I was just 16 years old, just 17 years old, just 18 years old, at a time when I needed help. Like, I was being abused."
(Teigen tagged Stodden in tweets that mocked them and wished for their death. She has referred to this behavior as "trolling" motivated by a desire "to gain attention," but it's notable that Stodden also claims that Teigen would also "privately DM me and tell me to kill myself." No evidence of these DMs has been shared, and a carefully worded statement from Teigen's lawyer in June 2021 pointed out that "She did not acknowledge nor apologize for sending private messages directing or encouraging self harm.")
Teigen apologized on Twitter first, though her words were directed as much at Stodden as they were at her own fans. "I have worked so hard to give you guys joy and be beloved and the feeling of letting you down is nearly unbearable, truly," she wrote. She followed this up with a longer statement on Medium that seemed more about her fans than Stodden and included the lines "I have so much love to give if you are open and willing to accept it. And if not, that's okay too. That's something I work on being more okay with every day. I know I let you down, but I hope I can make you proud." Both statements were criticized for centering her feelings. Stodden publicly stated that they accepted her apology but felt it was motivated by protecting Teigen's image and endorsements. Her brand deals were, in fact, in jeopardy after her old tweets came to light. Per The Cut, "Bloomingdale's reportedly pulled an impending contract, and Macy's removed Teigen's cookware line from its website. Later, cleaning-supply brand Safely, which Teigen launched with Kris Jenner, announced that Teigen would temporarily step away from the company. Most recently, Teigen's guest-narration role on Netflix's Never Have I Ever was filled by Gigi Hadid." Teigen later posted a self-centered Instagram caption about missing her usual connection with her fans due to her status in what she jokingly called "the cancel club."
That was the summer, now it's the fall. Teigen is back on Twitter and never left Instagram, but her posts have been mostly about her family and finalizing her latest cookbook, and her offline moves have been quieter since her cancellation. Now, though, it's time to promote the book, Cravings: All Together. That means a press tour that will require addressing the scandal.
One such interview was with The Today Show. (Their online content team did Teigen no favors by sharing it with the title "Chrissy Teigen: Apologizing For Cyberbullying 'Made Me A Stronger Person.'") Host Hoda Kotb lobbed a softball at Teigen right away, so she could address the elephant in the room before moving on to a fun cooking segment. With some distance from the scandal (and certainly some advice from her PR team), Teigen handles herself well. She explains the difference between her old behavior online and her experience on the receiving end of harassment:
"In the [old] internet days... you felt like you weren't talking to anybody. You just threw things out there, you didn't feel like anyone was going to read it. And then I kinda became the person that... people never though the messages were going to. You kind of throw things out there and... you don't think about the impact and the person on the other side."
While she says that she's apologized to Stodden personally, she also acknowledges that Stodden doesn't have to forgive her: "If they accepted it, that's great, but they didn't have to, either." As in her other apologies, she reiterated her desire to become a better person: "It was a big moment of – I need to find out how I can be better, how I can grow from this, learn from this."
Teigen is a model and a cook, but she's most famous as a personality. She's the Clapback Queen who wastes time on Twitter just like you. Her voice is always conversational, never taking big Hollywood events too seriously and sharing day-to-day family updates like your mom friends on Instagram. She's getting better at not centering herself in her apologies, but I see why this publicity tour has to include so many qualifications about her own personal growth. She's gotten this far by letting the world see the real, unfiltered Chrissy Teigen, and she'll get through this moment in the same way. In both the Today interview and a chat with the parenting site Scary Mommy, Teigen talks about getting sober and working on herself in therapy.
Teigen's tweets to Stodden were reprehensible, and she needed to take accountability for them. But it's also interesting to observe the way the pendulum of public favor swings. "Cancellations" often feel like a burst of pent-up energy when people who never liked the star in question get to finally say so without pushback. In many situations, I get the sense that people were itching for a clear sin to point to to justify why someone was always their BEC. As Vox points out, Chrissy Teigen was the archetypal Cool Girl, called "the Jennifer Lawrence of the modeling world" by Elle in 2014. As with J. Law, the public sentiment would eventually turn. Pete Davidson joked on SNL's Weekend Update that a highlight of an otherwise terrible year was "getting Chrissy Teigen out of our lives."
The pendulum usually swings back, though. Kim Kardashian was slut-shamed and called talentless in the 2010s, but she's now embraced by the fashion world and widely acknowledged as a successful businesswoman. We're reexamining how the media treated stars like Britney Spears and Paris Hilton. It's no longer cool to hate Anne Hathaway. Men aren't built up and torn down as often as women, but it's notable that Kumail Nanjiani, who is not a white male celebrity, has recently opened up about the whiplash of being praised and then mocked for his body transformation.
We haven't seen the last of Chrissy Teigen. It helps that her crime occurred a decade ago, as everyone grows over the course of ten years. She already seems to be a bit more conscious of reading the room before she posts, and she's saying all the right things on her press tour. People who never liked her probably won't come around, but she never needed them to begin with. Her brand was always about being imperfect and a little messy, and this scandal didn't contradict that, just showed where she used to take it too far. As of this writing, Cravings: All Together has been out for two days and is the #1 bestseller in its category on Amazon. People still want what she's serving.
---
More like this: