FOBMC #5: "Save Rock and Roll"
Butch Walker is in, and I'm out.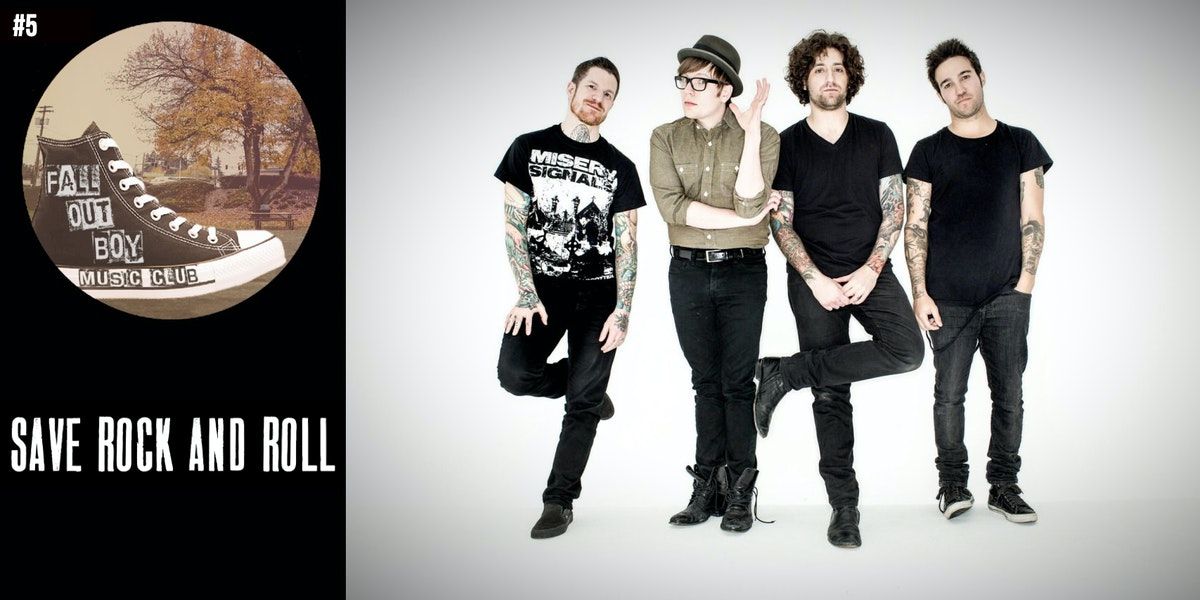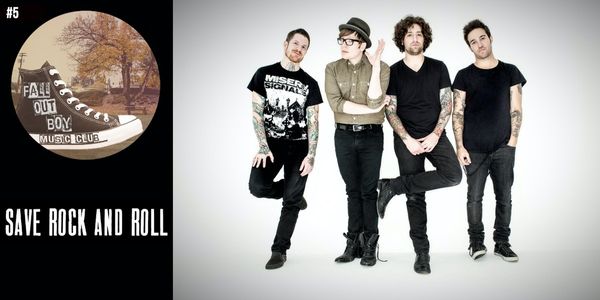 Welcome back to the Fall Out Boy Music Club! It's the official fall of Fall Out Boy here at Friendmendations — every other week, we'll analyze the discography of Chicago's angstiest export. Share the link on social media! Get all your former emo friends to join the club!
We've covered the band's original run: Take This to Your Grave, From Under the Cork Tree, Infinity on High, and Folie à Deux (plus the debut of their protégés, Panic! at the Disco.) The band took a four-year hiatus before the album we'll look at this week, Save Rock and Roll, a clear turning point for their career.
---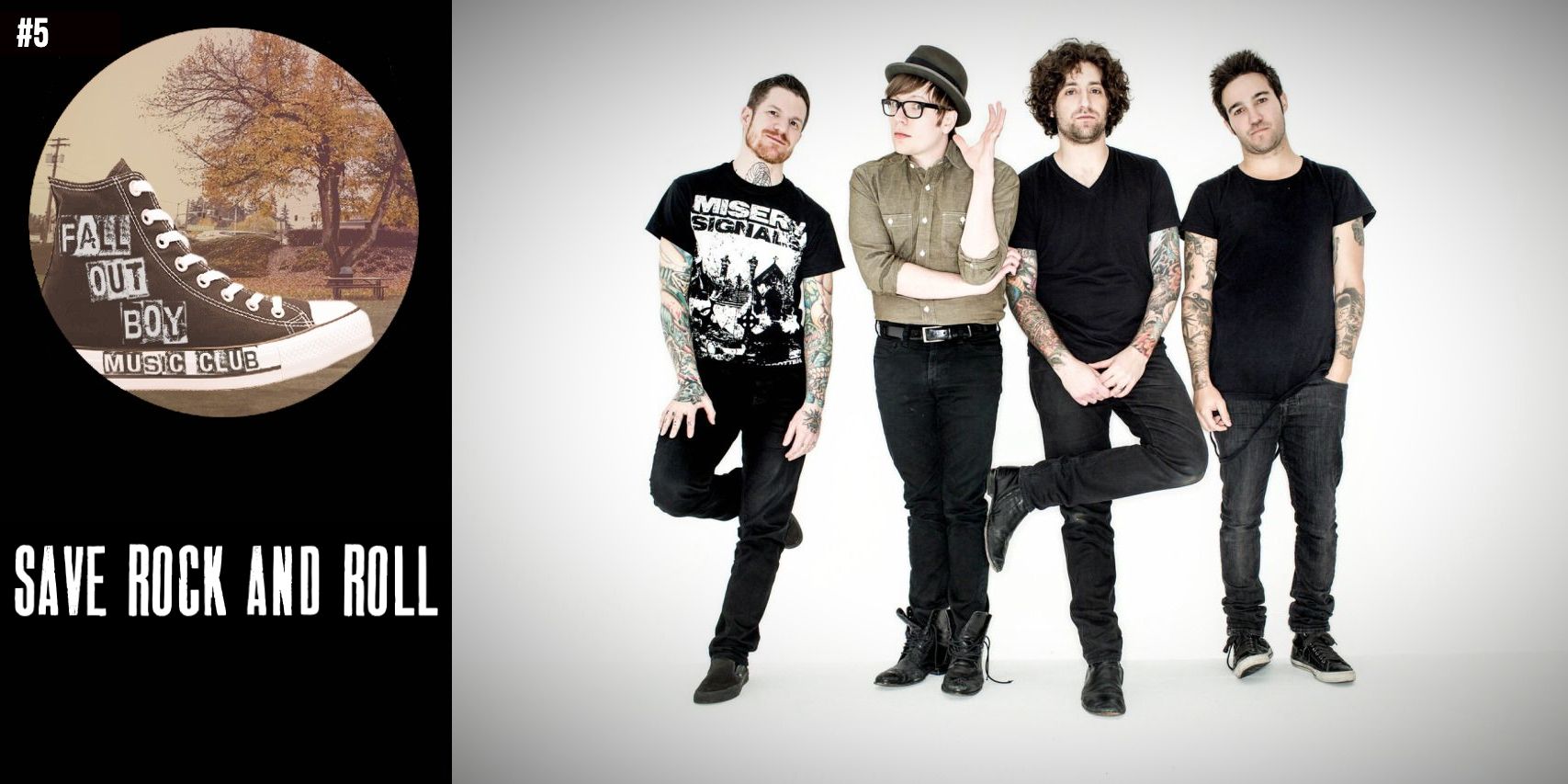 At what point does being self-referential cross the line into self-obsession? At what point does a band stop being relevant? At what point does trend-chasing seem desperate?
I can't say that I have exact answers to any of those questions, but I sure know the exact point at which I stopped liking Fall Out Boy. It was the release of their 2013 album, Save Rock and Roll.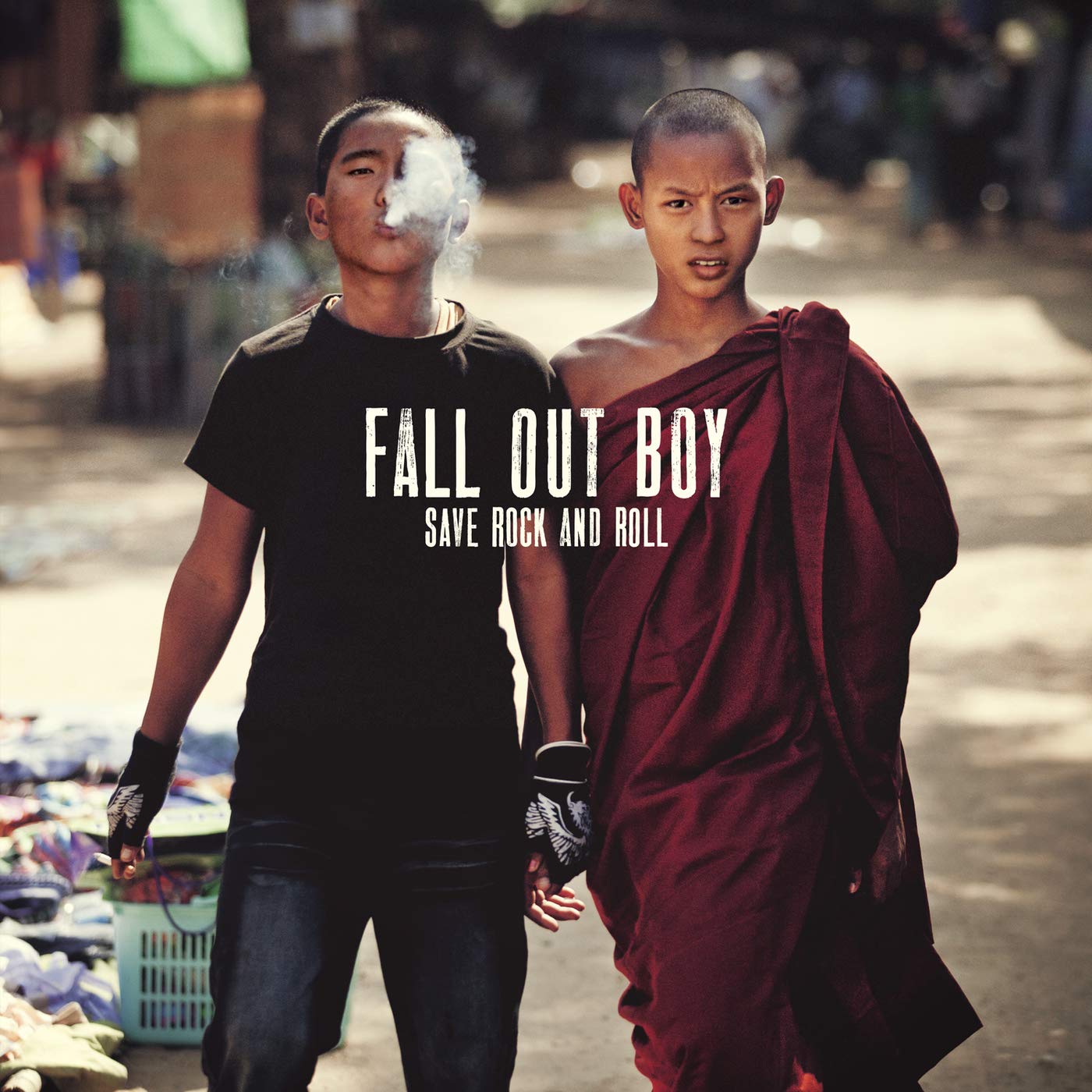 The band had gone on hiatus after the release of 2008's Folie à Deux for a few reasons. One was simple burnout: they'd been touring or recording nonstop for about seven years. They were also discouraged with Folie's reception among both critics and fans. In the four intervening years, they each took on other projects, though none were particularly successful. Joe and Andy, the FOB members with a background in metal, formed a respectable heavy metal supergroup called The Damned Things with members of Anthrax and Every Time I Die. Pete started an electropop project called Black Cards with Bebe Rexha on vocals, but it never really got off the ground. Patrick put out a very bad solo album and sunk a lot of his own money into its production, promotion, and tour. Rock and roll was not necessarily in need of saving, but their careers were.
Fall Out Boy had never officially broken up, so their reunion was always a matter of time. The question was how a band like Fall Out Boy could come back in 2013. The emo moment had long since passed. Contemporary rock bands had either gone full pop, like Maroon 5 or lost all relevance, like the Killers. Newer bands on the "rock" charts like Mumford and Sons, Imagine Dragons, and Foster the People had little in common with the band that had put out Take This to Your Grave.
Pete had always been canny about trends and marketing, embracing still-nascent social media in the band's earliest days and capitalizing on their success to start his record label. Months before Beyoncé changed the game with the digital drop of her self-titled album that December, Fall Out Boy used the element of surprise to market their comeback. Save Rock and Roll had been recorded in secret, with accompanying music videos shot and a tour booked without fans catching on. "What if the Smiths got back together? How would I want it to go down?" he explained at the time. "I'd want a song right away, shows right away ... 'And by the way, they've already recorded the album.' The whole time you thought they were secretly meeting, they were secretly meeting. How crazy would that be?" (They also beat Bey to shooting music videos for every song on the album, but the so-called "Young Blood Chronicles" are no Lemonade.)
Save Rock and Roll's release didn't have as much impact as the big-budget coup of BEYONCÉ, but the surprise drop wasn't the only trend that Pete anticipated. He recognized that the rise of Spotify heralded the "death of genre" — no longer would young people stay loyal to a particular music scene when they could put together diverse playlists of songs for all kinds of moods. Furthermore, the general public had embraced idiosyncratic songs like Gotye's "Somebody That You Used to Know" and fun.'s "We Are Young," proving that strange production choices could make songs stick out on a platform with millions of songs available. I imagine that Spotify also influenced the band's pivot to normal song titles, which were more searchable than the long-winded nonsense they were known for.
Fall Out Boy had a choice: double down on the sound that had put them on the map, or adapt to a very different pop landscape. They chose the latter. "I hear a lot of bands complain as they get older, 'Oh, the new generation doesn't get us,'" Patrick said. "It's like, 'Well, you have to stay relevant by making music that's relevant to people.' What's fascinating to me is that you can't contrive that. You can't just make the same record that you made forever ago and expect that be something that will resonate with people. But you also can't go for radio and that kind of thing. You have to find this zen place when you find something that sounds like you, but also new."
Yes, the album's title is tongue-in-cheek, as Save Rock and Roll was by far the poppiest album they'd written to date. But that characteristic Pete Wentz self-seriousness hadn't fully gone away. Just look at the album art, repurposing a compelling Roger Stonehouse photograph into a statement on "old and new clashing. tradition and change coming together." As per usual, their artistic statement wasn't remotely subtle. The band had taken significant time off and reshaped their sound, so I get what they were going for when they announced their return with a photo of them burning their old records at the site of Disco Demolition Night. I guess I see why they doubled down on the imagery for the music video for the album's first single. I just can't help but roll my eyes.
My favorite music reviewer, Todd in the Shadows, once analyzed another Big New Sound single from a similarly self-obsessed artist, "Look What You Made Me Do,"  and said with exasperation, "At some point, your image has to be about something other than itself." That's the problem with Fall Out Boy, too. Their music videos and lyrics had been referencing blowback and scandals from the time they were signed to a major label. The opening song on Cork Tree anticipated fame, and the video for Infinity's lead single made fun of the foibles they'd encountered as celebrities and its music video referenced their old videos. Folie's "What A Catch, Donnie" featured a medley of lines from their previous singles and its music video, again, referenced their old videos. At some point, self-awareness starts to feel like not having any other ideas.
As with Taylor Swift, though, the art as PR wasn't what had attracted fans in the first place. Fall Out Boy's devotees identified with the band's emotional and personal songwriting. While Pete's lyrics had always been convoluted, they'd also been specific. On Save Rock and Roll, the songs are shinier and fluffier, with lyrics that confusing in a vague, meaningless way when they're not simply bland. Joe was more involved with songwriting on this album and Patrick contributed lyrics again for the first time since Take This To Your Grave, but it's hard to tell who did what when the songwriting is generally indistinct. The anthems are anthems about the idea of anthems ("Put on your war paint!" "Light em up, I'm on fire!") and the love songs sound like love songs. Pete's marriage to Ashlee Simpson had broken down during the band's hiatus, largely due to his struggles with addiction, and he said often in interviews that he'd had to finally grow up in order to be a responsible co-parent to their son. But none of that maturity shows up on the album. One chorus features the line "we can stay young forever" a full three years after Katy Perry released an intentionally campy song with the same sentiment in the chorus.
Patrick had said that they were aiming for a "zen place" in the middle of their old sound and a new one, but the album's classic Fall Out Boy moments often sound like retreads. "The Phoenix" has a similar opening to "Thnks fr th Mmrs." The chorus of "Rat A Tat" sounds like Folie's "The (Shipped) Gold Standard," right down to the cadence of the line "get, get on St. Peter's list" that echo "get, get, get, get, get out now." The title of "My Songs Know What You Did In the Dark" was originally a lyric in an unrelated 2004 demo by the band, which explains why it sounds like a worse version of lyrics they would write on Grave and Cork Tree. Save Rock and Roll's title track straight-up samples Take This to Your Grave highlight "Chicago Is So Two Years Ago," warping Patrick's teenage vocals into something pitched-up and hideous.
Their newer ideas are still unoriginal. "Just One Yesterday" is an egregious ripoff of "Rolling in the Deep." More embarrassingly, "Young Volcanoes" is an egregious ripoff of a much worse song, Train's "Hey, Soul Sister." The unbearably twee flourishes on on "Alone Together" make it sound like any alt-rock song tracking a Honda Civic commercial. "Miss Missing You" has similarly watered-down production, with washed-out "whoa"s that recall Imagine Dragons. It's clear that the band was throwing a bunch of ideas at the album in order to stick out in Spotify's algorithm, like the EDM breakdown in "Death Valley" and the completely unrelated Big Sean verse on "The Mighty Fall." The entire album has two interesting moments. The dancey synths of "Miss Missing You" are jarring, which is not the same as good. Courtney Love is extremely compelling as a guest artist on "Rat A Tat," though she announces her presence by yelling "It's Courtney, bitch!," a reference to an iconic Britney intro that would have seemed dated if it appeared on Folie à Deux five years before.
It's clear that this was the direction that the band wanted to take, but I must lay some of the blame for its terrible execution on a man named Butch Walker. Fall Out Boy had worked with Neal Avron as executive producer for their past three albums, with guest producers like Babyface and Pharrell brought in for certain songs but Neal Avron ultimately mixing all three albums. One previous guest producer was Butch Walker, who had produced Infinity's "Don't You Know Who I Think I Am?" and contributed vocals on a few songs elsewhere on the album. "Don't You Know Who I Think I Am?" sounds like a Fall Out Boy song. There are pounding guitars and punchy drums. While Infinity is mixed like a pop album overall and features pop and R&B production touches, the band's distinctive sound is still there. The same can't be said for Save Rock and Roll. Joe's guitar playing is vastly different from the metal-influenced work he'd contributed to previous albums. This was by choice — in early talks about the band's possible hiatus, he'd asked to be more involved in the songwriting, something Patrick had also wanted from him. So Joe, who said that "People would be surprised at how much of an electronic dude I am, and I like new wave, post-punk and proto-punk stuff," experimented with different guitar sounds this time around. "Fall Out Boy isn't overly rock in the rock sense. I have other bands where I can do guitar masturbation," he explained. "One other thing I like to do is to have a ton of guitars on a track, but you might think there's no guitar at all. I like tweaking with things and playing tricks with sounds." I think it works for Save Rock and Roll's eclectic sound. However, I cannot condone another change: ANDY'S DRUMMING IS SO MUTED ACROSS THE ENTIRE ALBUM. How dare they!? How can you have a drummer like Andy Hurley at your disposal and treat him with such disrespect?! The drum sounds are highly compressed in order to make them sound more like electronic drums, and he doesn't get to do any cool fills that would add any personality. Andy deserves better!! This shit's boring!!
I think that Save Rock and Roll is a much worse album on a technical level than their previous albums. But I really love blink-182's 2011 album Neighborhoods, another album from a rock act regrouping after a hiatus with a watered-down sound. My favorite FOB album is Folie à Deux, another eclectic album that strays far from the band's signature vibe. So I suppose I can't be too hard on people who prefer their Fall Out Boy albums catchy and poppy from top to bottom. But boy, do I wish I could hear some of the highlights, like "The Phoenix" or "Alone Together," re-recorded like classic Fall Out Boy songs. I'm not mad, I'm just disappointed.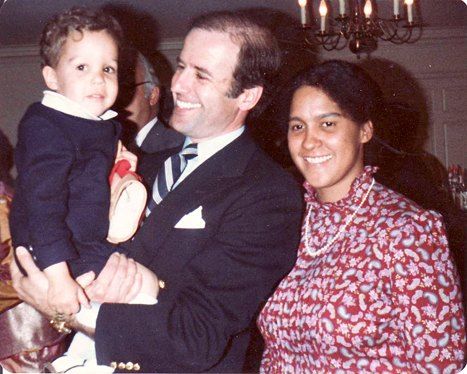 Who do I blame for this? Butch Walker? Patrick? Pete? President-Elect Joe Biden? (Pete Wentz's parents met working on the 1972 Senate campaign for Joe Biden, pictured above holding the emo kingpin as a toddler.) Maybe it was an inevitable progression for a band with their aspirations. Maybe it's not a coincidence that I stopped liking this band when I stopped being a teenager. Regardless, it's only gonna get worse from here.
---
Next time in the Fall Out Boy Music Club: they get even more pop, and I get even more distressed.
The Fall Out Boy Music Club logo was designed by Chuck Kaslow. Please tell your friends to join the club!