For Your Consideration: the "Hindsight is 2020" Oscars
An unusual year calls for an unusual Academy Awards ceremony!
Last year's Academy Awards took place at the end of February. Shortly after that, the world, including the movie industry, shut down. By the normal rules of eligibility, then, which qualify studio films released theatrically during the calendar year, only January and February 2020 releases would be considered for this year's Oscars. The Academy would have to consider unorthodox choices like Birds of Prey (and the Fantabulous Emancipation of One Harley Quinn), which should win Best Picture regardless, and Sonic the Hedgehog, which I suppose would sweep every other category.
Of course, the Academy is switching up the rules, because they're stuffy and boring. The eligibility window is extended through February 2021, and films intended for theatrical release that went to streaming services instead can be considered. Whatever. I have a better idea. I'm calling it the "Hindsight is 2020" Oscars.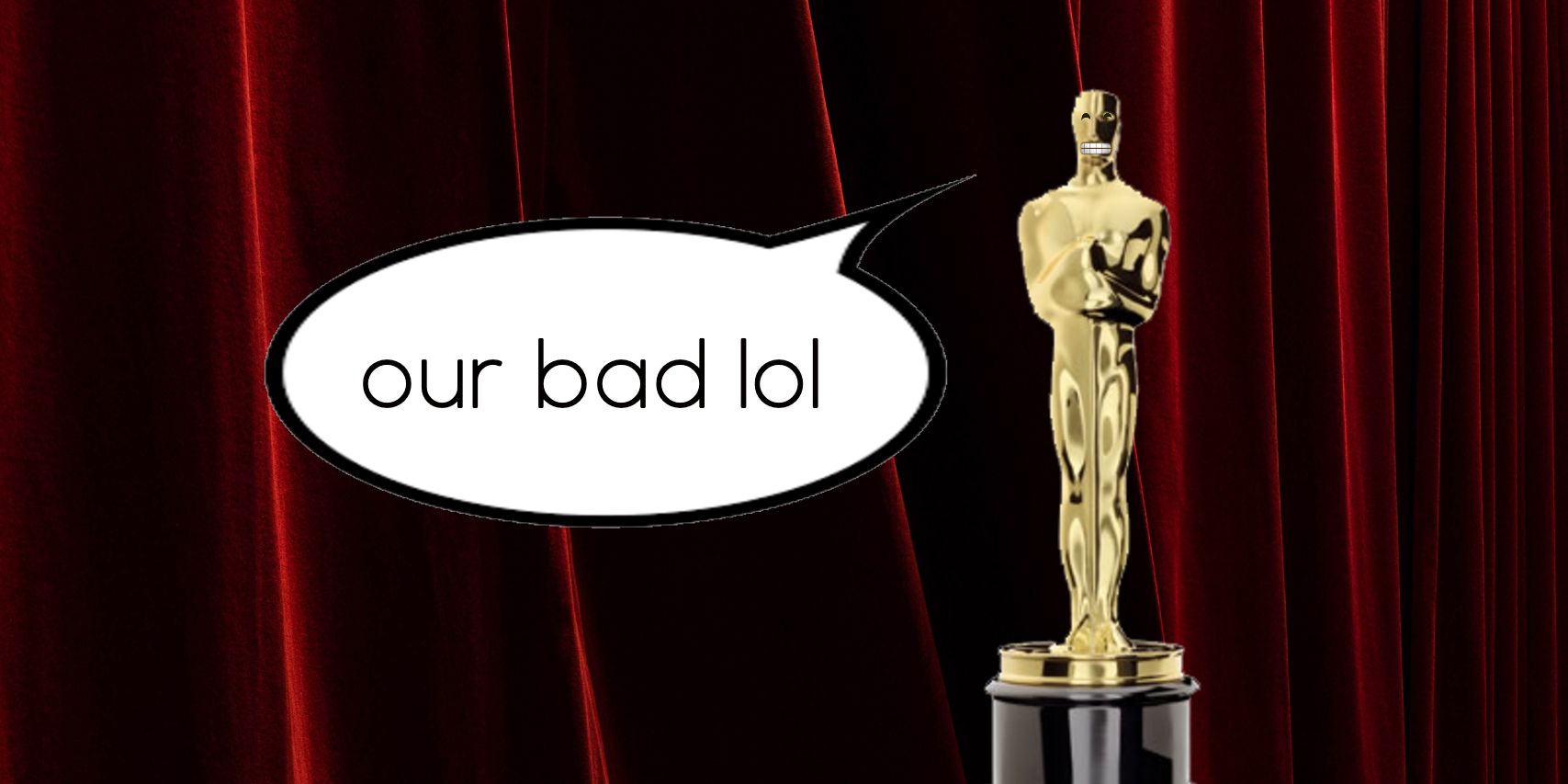 Here's my pitch: Oscar voters are idiots. Sometimes they get it right, but for every Parasite there's a Green Book. The Academy of Motion Picture Arts and Sciences claims to know this. They want to make things right, with more women and people of color in the Academy and strict diversity requirements for future contenders. That's cool. But true accountability means acknowledging that you've messed up. Better guidelines for the future, while welcome, can never undo the mistakes of the past.
But a ceremony dedicated to undoing the mistakes of the past can!
Enter the "Hindsight is 2020" Oscars. In a year when the film industry had to pause, the Academy, too, can take some time to reflect. Before you panic, I'm not saying that the movies from 2020 will be forgotten. This year's ceremony can be a special event, but we can make up for it next year with two nights of Oscarmania. God knows that Hollywood loves both pomp and circumstance, so let Tinseltown throw a big celebration with a 2021 ceremony and a 2022 ceremony back to back. These ceremonies are always too long, so you know that you wouldn't have to twist anyone's arm to stretch them out over 48 hours. Double the outfits, double the goodie bags, double the speeches about how important movies are! The celebrities will be gagging!
Hopefully that placates the normal attendees. This year, then, we can focus on what matters: going through every previous year of Academy Awards, acknowledging egregious errors, and making them right.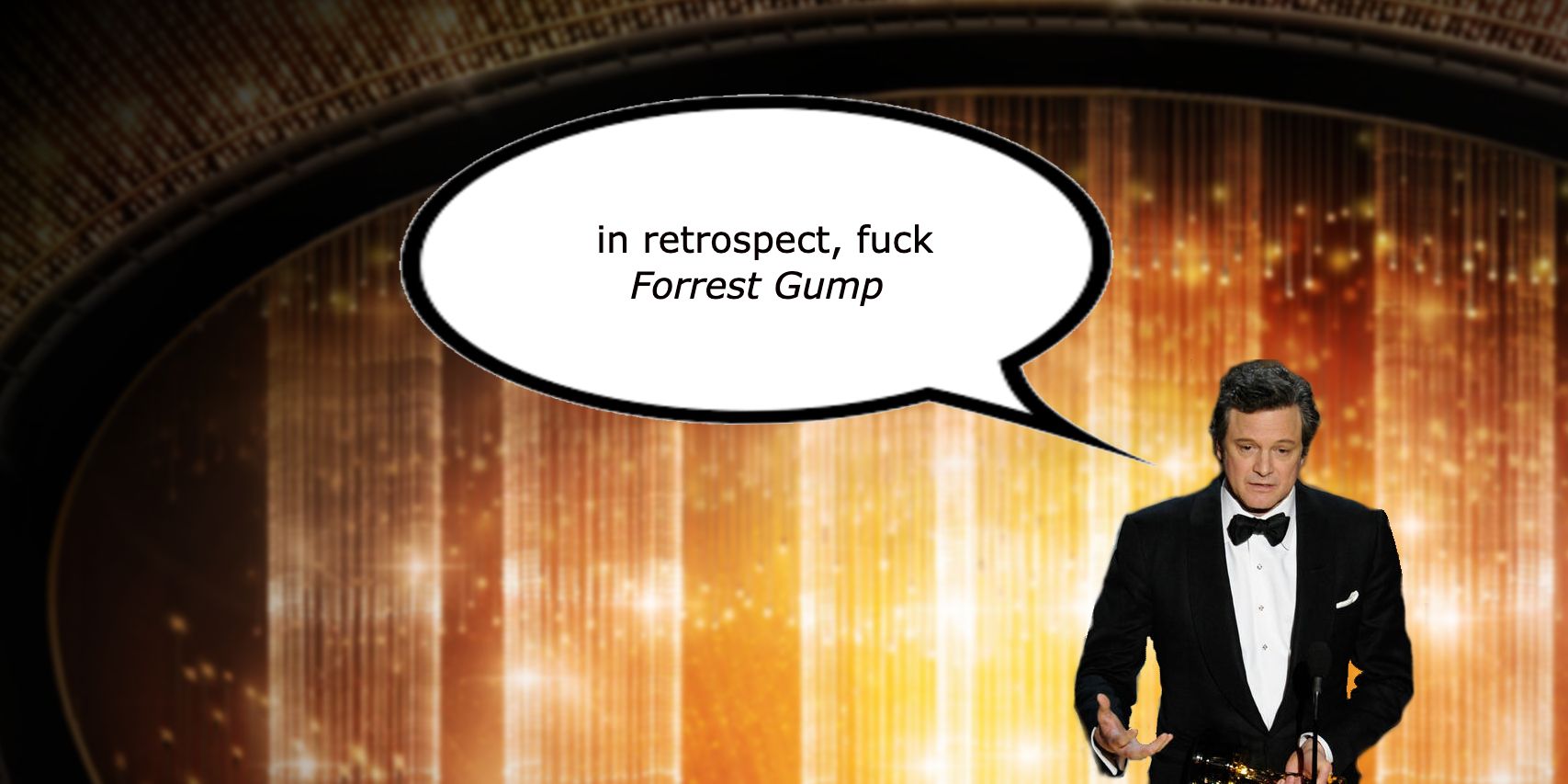 The premise is very simple. Presenters will go through every single year in Oscars history and redistribute awards from the undeserving to their rightful winners. There won't be any acceptance speeches, so you can really just fly through. Some years won't take any time at all. Anne Hathaway will go up and say, "The 60th annual Academy Awards were fairly solid. Sean Connery's win for Best Supporting Actor for The Untouchables belonged to Albert Brooks in Broadcast News. The award for Best Sound should have gone to Robocop."
Of course, other years will need more attention. Bring in Paul Giamatti to address the 1986 awards. "Eleven nominations for The Color Purple and not a single win?! Not even a nomination for Spielberg? A sweep for the colonialist fantasy Out of Africa?! The Academy should be ashamed of themselves. The awards for Cinematography, Art Direction, Score, and Sound Editing should be taken from Out of Africa and given to The Color Purple. Geraldine Page was absolutely a brilliant actress. We've redistributed several Oscars to her tonight, because she should have won before 1986. And that Academy Award for Best Actress belongs to Whoopi Goldberg for her show-stoppingly deep and detailed work in The Color Purple. While Anjelica Huston's performance in Prizzi's Honor was incredible, the narrative that she was directed by her influential father John Huston clouded the the Academy's judgement in the Best Supporting Actress category. And dammit, we need to get into BEST ADAPTED SCREENPLAY!" (This segment will continue for five more minutes.)
This is an incredible opportunity! It's a chance to fix historical embarrassments. Amy Adams will have an Oscar. Jared Leto will not. Citizen Kane never won Best Picture! It will now. Driving Miss Daisy's Best Picture statue will go to Do The Right Thing, and naturally, Crash's will go to Brokeback Mountain. Tom Hooper should get his Oscar for The King's Speech taken away both because it sucks and because he made Cats.
When appropriate, the Academy can acknowledge what held up. Marlon Brando was right to boycott the Oscars, for instance, and a Native American activist can give a short speech examining the issue. Marisa Tomei's My Cousin Vinny win should be affirmed.
Mostly, though, the ceremony will acknowledge and analyze the system's many flaws. The Academy is easily swayed, both by nominees campaigning heavily for their awards and by numerous biases: racism, homophobia, sympathy for nominees who have gone too long without a statue, self-congratulatory attachment to movies about making movies, etc. A diverse coalition of critics and film historians will consult on the "Hindsight is 2020" Academy Awards to analyze what went wrong each year.
For years now, The Hollywood Reporter has been publishing "brutally honest" interviews with anonymous Oscar voters who say things like "I want an American director to win. The Oscars is an American thing" and opine that Get Out "played the race card." I think that excerpts from these interviews should be included in the ceremony. The Academy needs to acknowledge that these people are their voters.
Finally, I'd like some way to address the fact that some people in Hollywood are irredeemably terrible people. Right now, the Academy Honorary Award is intended for "extraordinary distinction in lifetime achievement, exceptional contributions to the state of motion picture arts and sciences, or for outstanding service to the Academy." A Dishonorable Award could serve this purpose, too. Roman Polanski, Kevin Spacey, and Harvey Weinstein have been inexcusably evil for decades, contributing darkness and horror to the state of motion picture arts and sciences, and they show be recognized for these exceptional contributions. Alternately, the ceremony could simply display their faces among others in a special In Memoriam segment dedicated to the vile creeps whose careers are dead to us.
Look, I'm sure this will be messy. Will it cause some lingering resentment when Sam Smith's Oscar for a forgettable Bond theme is rightfully redistributed to Lady Gaga and Diane Warren, who deserved it for "Till It Happens to You?" Maybe! Will it be confusing for Alicia Vikander to swap her Danish Girl trophy for the same one but for Ex Machina? Probably! But the Academy is being presented with an unprecedented opportunity for reckoning and wordplay, and I think the "Hindsight is 2020" Oscars is too good an idea to overlook. Being the Academy, though, they will!
---
More like this:
"I want to see Robert Pattinson have a nice time"
"I have so many questions about Elon Musk's sister's adaptation of a Twilight fanfic"