What we don't talk about when we talk about Nickelodeon
This one joke TOTALLY went over your head as a kid!!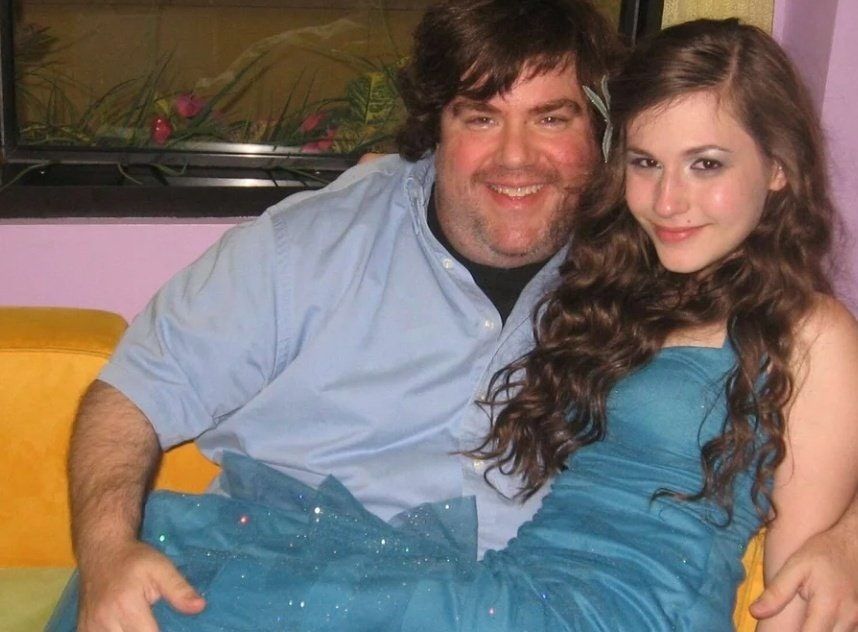 This post deals with the topic of underage sexual abuse.
---
With the launch of Disney+, millennials and older Gen Z kids got the opportunity to revisit the Disney Channel shows of their youth — Boy Meets World, Lizzie McGuire, That's So Raven, Wizards of Waverly Place, and more. Disney is a terrifying corporation that will soon monopolize all of entertainment, but until then, the other major kid's network is a Viacom property whose streaming options are limited through a partnership with Netflix. The streaming service has quite a few animated classics from  Nickelodeon, like Invader Zim and Hey Arnold!, but only two live-action shows, Victorious and Sam & Cat.
At the moment, Ariana Grande is by far the biggest Nickelodeon alum, which probably explains why the two shows she once starred in are the ones Netflix paid to license. These shows, like almost every beloved live-action show on the network from the past 25 years, were creations of Nickelodeon mega-producer Dan Schneider. I do not think the streaming era will be kind to him.
A common sensibility among writers of kids' media is that their work can contain jokes for both children and their parents who may be watching with them — references to classic media that kids wouldn't get, wordplay too clever for kids to grasp, and occasionally raunchy humor meant to go over kids' heads. The latter has been the source of listicles since millennials grew old enough to revisit the media of our youth and write about it on the internet. You can disagree with this concept on a creative level — I know that I personally grew tired of references that I recognized only as references, like every cartoon on every channel including an "I AM YOUR FATHER" reveal — but it is another thing to disagree about it on a moral level. It becomes a moral concern when you revisit a Schneider show.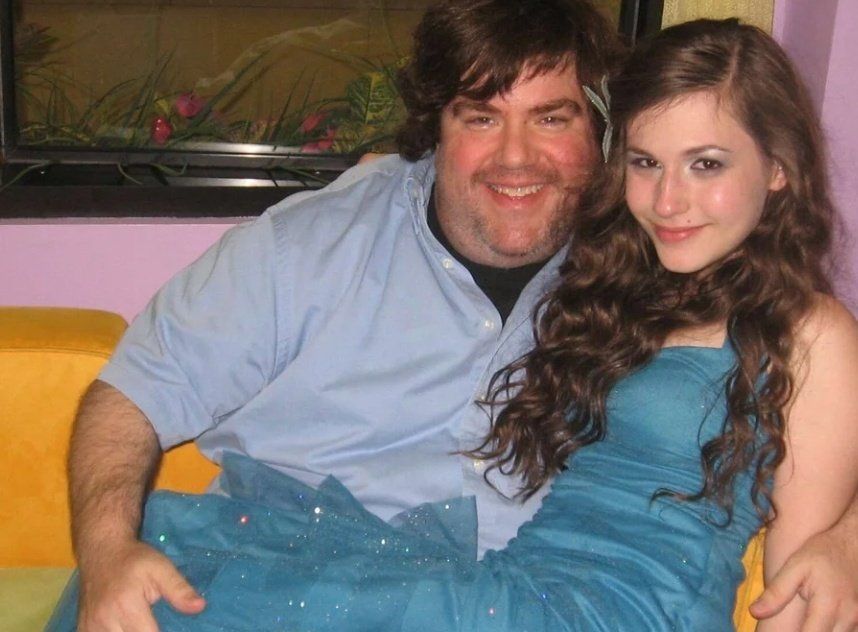 A former teen actor himself from a time when that meant filming small movies in your hometown, Schneider has said that he earned his actors' trust by sharing his experience and offering to fill the role of acting coach when they needed help with a scene. He created a star system within Nickelodeon by creating spin-offs with the breakout actors on his many shows — for example, All That's Jamie Lynn Spears became the lead on Zoey 101, while her costar Victoria Justice would get her own show with Victorious; Drake and Josh was an Amanda Show spinoff, which led to Miranda Cosgrove's starring turn on iCarly. His shows were hits, building such confidence from Nickelodeon that they once ordered a full season of a Schneider show before he had any details on the plot, cast or title. "There are very few people in the entertainment business who have the level of creative control that I do," he admitted. It was surprising to some entertainment writers when Nickelodeon somewhat abruptly cut ties with Schneider in 2018. But to many outside observers, the firing was long overdue.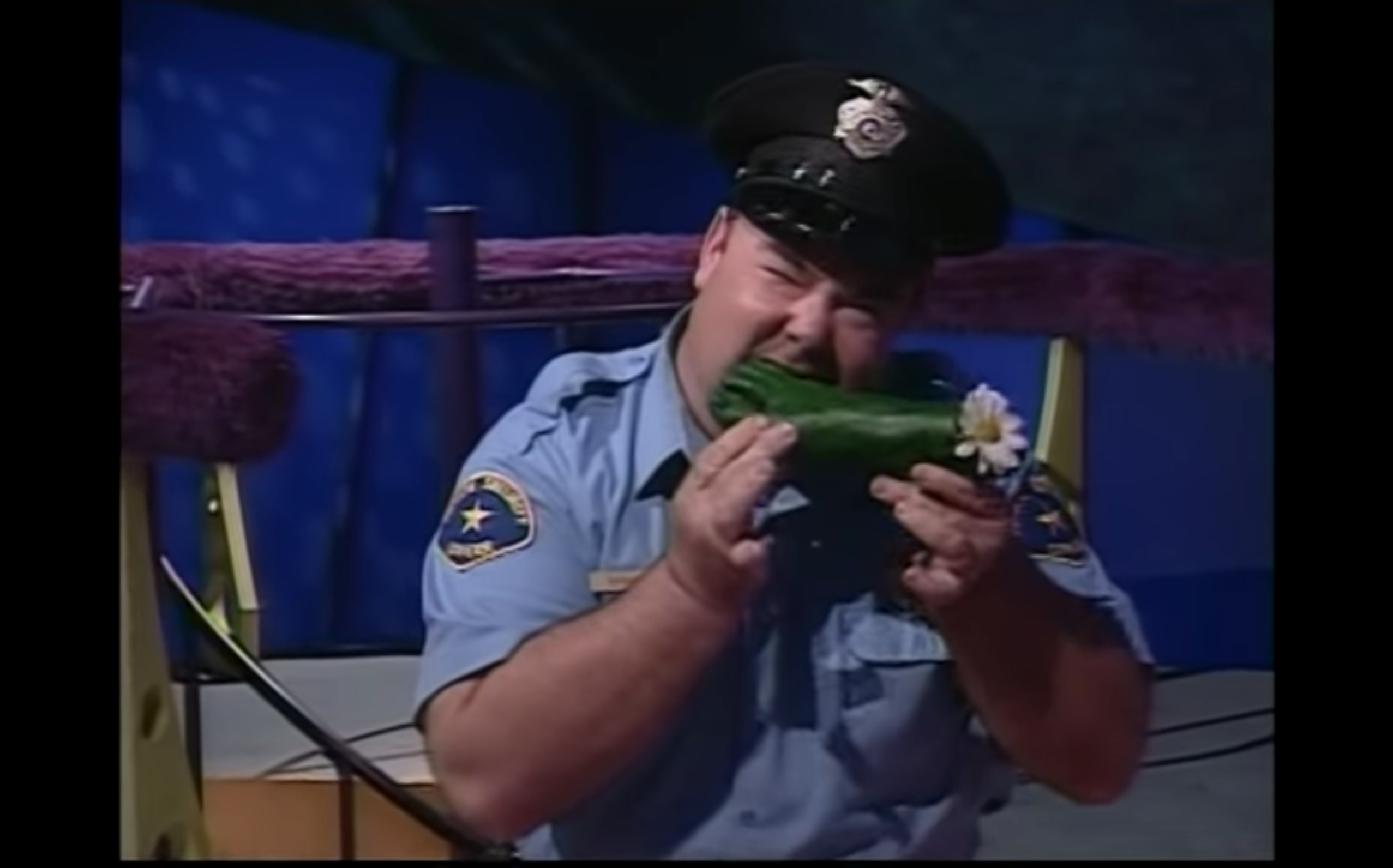 The most obvious criticism of Schneider is his readily apparent foot fetish, seen both in his work and his off-camera activities, which is so well-known at this point that it's become a tired joke on Twitter. It's impossible to unsee his fixation once you know about it. Schneider characters make bets where the loser has to massage the winner's feet. They get dared to squirt ketchup all over their feet or challenged to suck their own toes. An entire episode of his show Victorious involves the characters discovering a new treatment for super-smooth feet, which they show off by having other characters stroke their feet. Schneider also used his Twitter account to share pictures of his female stars' toes, and the official account for his show Sam & Cat once tweeted a challenge to kids to share pictures of their feet with the show's hashtag written on the soles. These incidents speak to a pattern of disguising a fetish with wacky comedy plots or punchlines, sexualizing minors in a way they did not consent to.
Victorious seems to be the worst example of another criticism of Schneider, his overt sexualization of the young girls on his shows. It is surely not a coincidence that Victorious is one of the later shows he produced for the network — presumably he could get away with more after so much success for so long. Victorious centers on students at a performing arts school, with musical numbers that gave an excuse for tight, revealing costumes and suggestive choreography. Schneider himself fawned over the young girls on his show, gushing on his public blog about how gorgeous the actresses were, showing a clear lack of boundaries as their employer and as an adult overseeing teens. (He also once tweeted "Filming Victorious. Editing iCarly. Drinking Diet Dr. Pepper. Looking at lotion bottle. Contemplating moisturizing my hands," an anecdote with a horrifying connotation that he has since deleted.) Victorious included frequent innuendos and inappropriate jokes, and Schneider's scripts also concocted bizarre circumstances for his young actors that would play as sexual when filmed.
Schneider was Nickelodeon's most high-profile producer, and the rumors about him have remained just that. But the network has had multiple cases of behind-the-scenes predation that have received less attention.
It is clear that Nickelodeon failed to create a safe environment for the hundreds of children and young teens who worked on its shows and empowered predators to take advantage of the access their positions gave them. The above list only comprises the abusers who have faced consequences, but there are certainly more who have escaped detection. We have no idea how many stars, featured players and extras could have been harmed in the network's history.
In the past few years, former child stars have become more outspoken on the topic of pedophilia in the industry. Corey Feldman called pedophilia "the biggest problem in Hollywood." Anthony Rapp revealed that Kevin Spacey attempted to initiate sex with him when he was only 14, and two former dancers for Michael Jackson shared their stories of childhood molestation in the documentary Leaving Neverland. Alanis Morissette, a child actor before her music career, reiterated last year that her 2002 hit "Hands Clean" was about her statutory rape by an older man in the industry. These survivors showed courage and strength in disclosing their stories. But it is unreasonable to demand that any victims to share details of their childhood trauma with the world.
Because of the way that grooming works and because children are so impressionable, it is possible that many of the young stars who grew up in the bizarre bubble of Hollywood experienced abuse that they have not even processed. In the case of Schneider, we simply don't know what, if anything, he did to the children and young teens on his many shows. Several of the now-adult actors who worked on Schneider's shows stay in contact with him, though it is impossible to fully analyze that fact without more information.
Still, there have been hints that former child stars who worked with Schneider have stories to tell.
Perhaps the most notable case of a Nickelodeon star struggling in adulthood is Amanda Bynes, who worked with Schneider for the entirety of her formative years. She began her Nick career at just nine years old when she joined the cast of All That, where Schneider was a writer and Brian Peck was the dialogue coach. She was a hit with both the network and audiences and was given her own show, helmed by Schneider, at age 13. Three years later, Schneider wrote the screenplay for Big Fat Liar, her first feature film, and created her WB sitcom What I Like About You. Bynes was certainly exposed to two of the convicted predators at Nickelodeon: Jason Michael Handy worked as a production assistant on both All That and The Amanda Show, and Brian Peck appeared on an episode of The Amanda Show and two episodes of What I Like About You.
Bynes, now 33, has been in a conservatorship similar to Britney Spears' since 2013. She recently announced on Instagram that she would ask a judge to review aspects of her conservatorship to allow her to choose her own mental health treatment. She has not publicly spoken about her time on Nickelodeon in recent years, but the day after Dan Schneider was fired from Nickelodeon, a blind item was sent to a blog known for hinting at accusations about Schneider. Widely believed to have been sent by Bynes, the blind read "thank you for all of your ongoing support. i Don't know how Any of these meN sleep at night, but if there's one thing that i Do know Is that what's Done In the dark, always comes to lighT! xoxo" with the capitalized letters spelling "DAN DID IT."
At the time of Schneider's departure from Nickelodeon, Variety reported on "multiple complaints of abusive behavior against Schneider filed by members of his staff" and "a cloud of suspicion over the treatment of some younger stars of his shows." When asked about the allegations against Schneider in an interview in January 2020, original All That cast member Lori Beth Denberg said, "He's not my favorite person. He is not a pleasant person to work for, and I'm not confirming anything, but I'm not disappointed he won't be darkening the doors of any more people working for him—and it's not just kids, it's anybody." She added that the news that Nick's All That reboot would not involve Schneider felt like "the ship being driven the right way."
Alexa Nikolas, who starred on two seasons of Zoey 101, posted on Instagram in 2019 about her negative experience on the show following a cast reunion that prompted rumors of a reboot. She described the event as "triggering a lot of childhood trauma" in a video and later wrote that she "never wanted to be apart [sic] of the reboot. Especially if Dan was apart [sic] of it." She posted an image to her stories with descriptions of Weiss, Handy, Channel, Peck and Schneider's behavior under the title "Nickelodeon Creep Club." In a later Instagram Live session, she said, "I don't feel comfortable going into details about what I've seen with Dan or what Dan is." She added that she was participating in a documentary that would go into more detail about Dan, though unfortunately that project has presumably since been shut down. In that same livestream, she said of Schneider's shows, "In my opinion, if you watch any of those things — it's creepy. It's not good."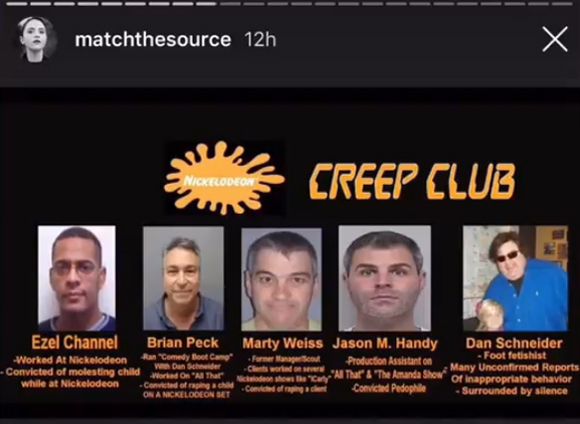 Almost no hard evidence (apart from Schneider's own output) can prove that the producer was ever inappropriate on-set with his actors. However, problems in the entertainment industry tend to spread via whisper network long before they ever make it to the general public, as NDAs prevent information from leaking. I personally could have told you ten years ago that Kevin Spacey, Bill Cosby, and Harvey Weinstein were abusive creeps. The gossip has been around for decades if you know where to look. I have been convinced that Dan Schneider would be the next big #MeToo story for a while now, but he has remained frustratingly unscathed during the larger reckoning in Hollywood. I was particularly hopeful when he deleted over 12,000 old tweets over the course of two days in October 2019 — I assumed that he'd gotten wind of a forthcoming article about him, but he seems to have been reacting to pushback from others on Twitter.
Dan Schneider has mostly been quiet since leaving Nickelodeon. He has no projects in production that I can find, and it is possible that he will simply retire with his millions of dollars while continuing to collect royalties from his various properties. However, most disgraced men in power remain disgraced only temporarily. Especially because Schneider made a quiet departure rather than being brought down by a bombshell exposé, it seems incredibly likely that he will attempt a quiet comeback until he is fully at the reins of a successful production for another network.
It is deeply disturbing to revisit the shows of your childhood and realize that the children onscreen were being exploited. They had no power in their situation. They were too young to understand the undertones of what they were performing. Without their consent and without strong systems in place to protect them, these children worked for years and brought in millions of dollars for the network. Though the online nostalgia industrial complex will continue to mine the highlights of these shows for clicks, the public must reckon with the reality that we were watching the most vulnerable members of an industry filled with abusers.