Friendmendations 10.26.20
I see the bad moon rising - I see friendmendations on the way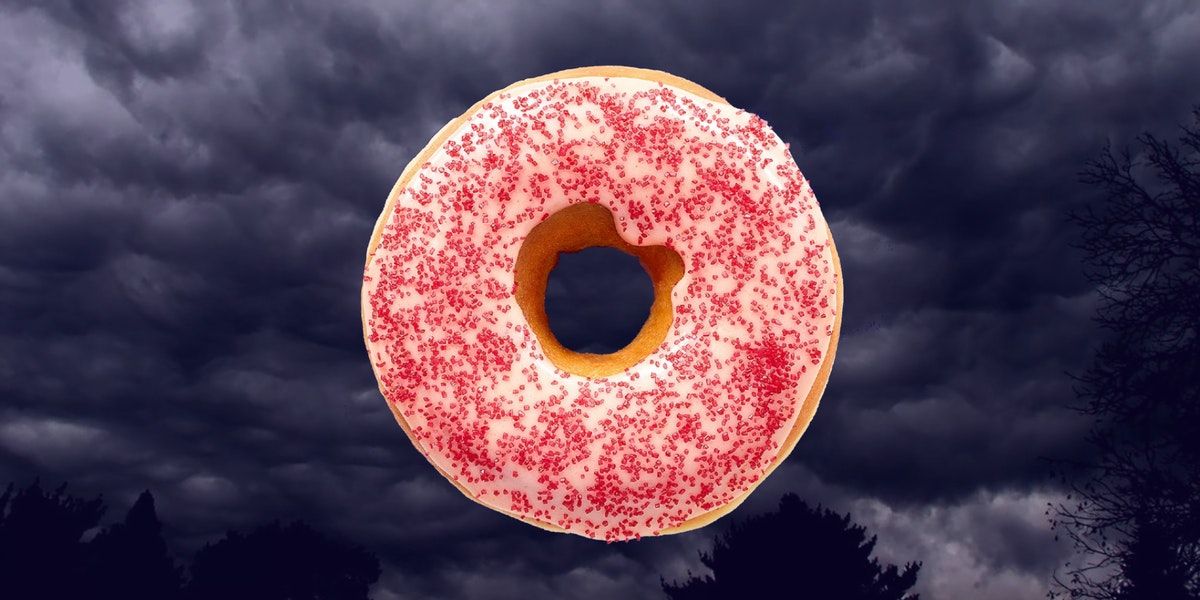 Hey, all! Happy not-quite-Halloween! Please don't be stupid and go to big parties, I desperately want to see my family again and I'm afraid this pandemic will never end.
My quarantine bubble recently took a trip out of the city to go apple-picking at a farm with a pumpkin patch. Here is me gazing lovingly at a pumpkin, a distillation of my feelings about fall in general.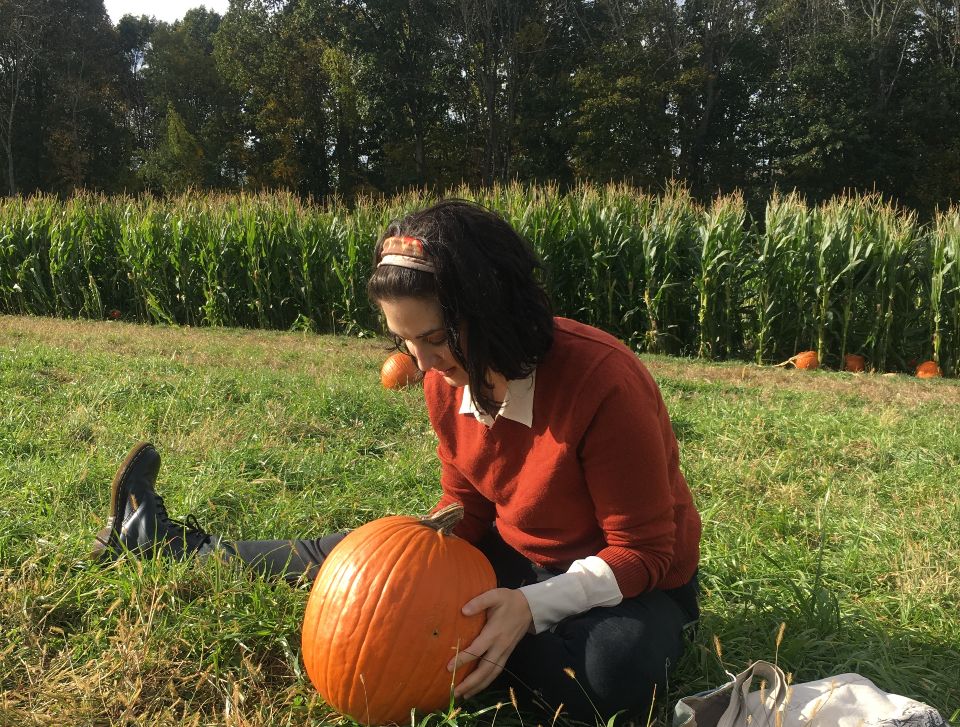 I took my apples home and made crockpot apple butter with them! I left it to cook overnight and woke up to the most heavenly smell in the apartment. I highly recommend it. Want more things I recommend? Wow, you're in luck, that's what this whole newsletter is about, as per usual!!
A beautiful essay on a confusing donut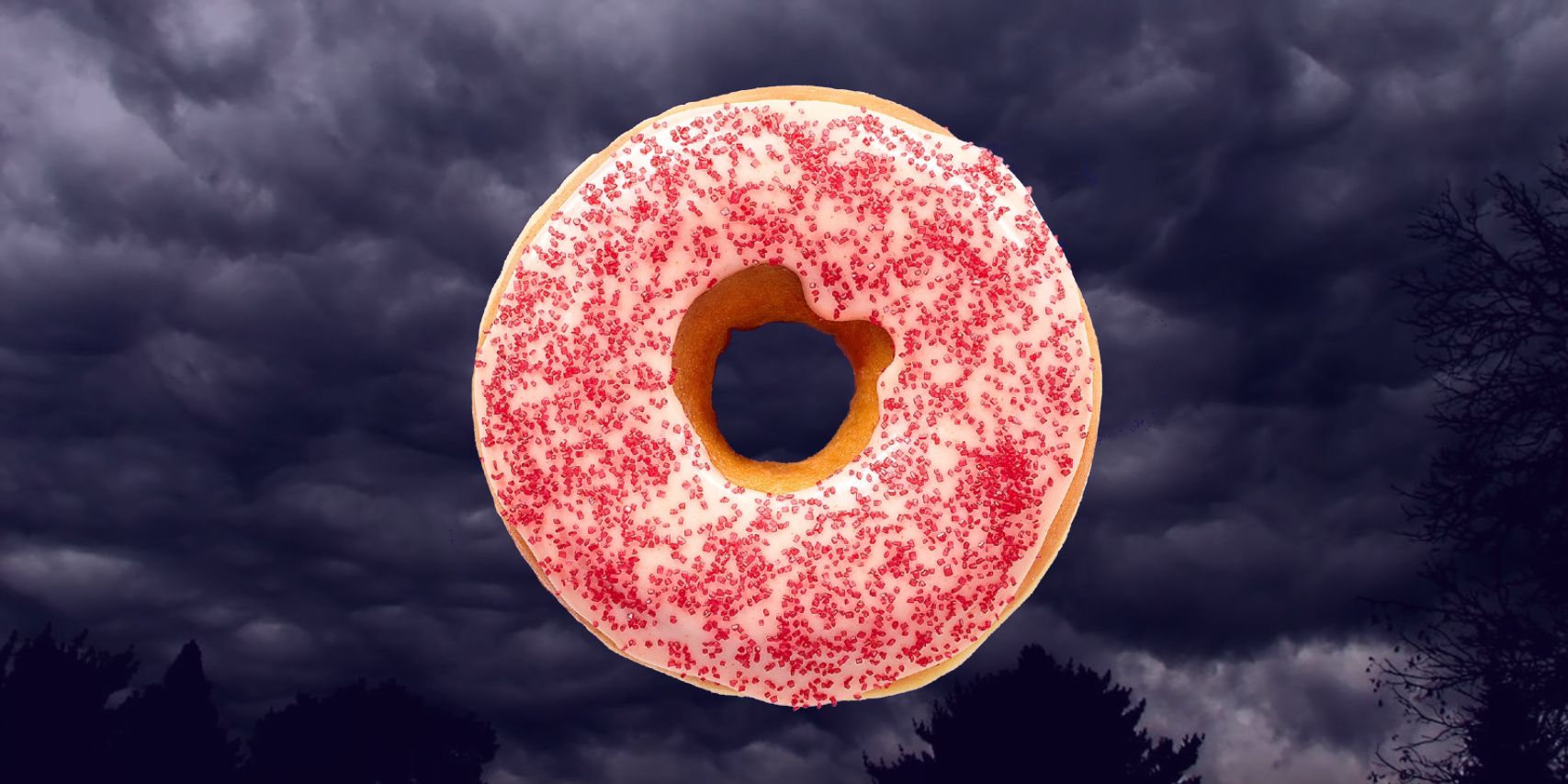 Josh Gondelman is a very funny comedian, New England native, and proud Dunkin' Donuts fan. His essay on the new Dunkin' spicy ghost pepper donut, a pastry he calls a "specific manifestation of dark energy," made me laugh several times. I don't love that we're in a year in which an unfamiliar donut can trigger an existential crisis, but I do love that Gondelman made his seem hilarious!
The most PERFECT fall cake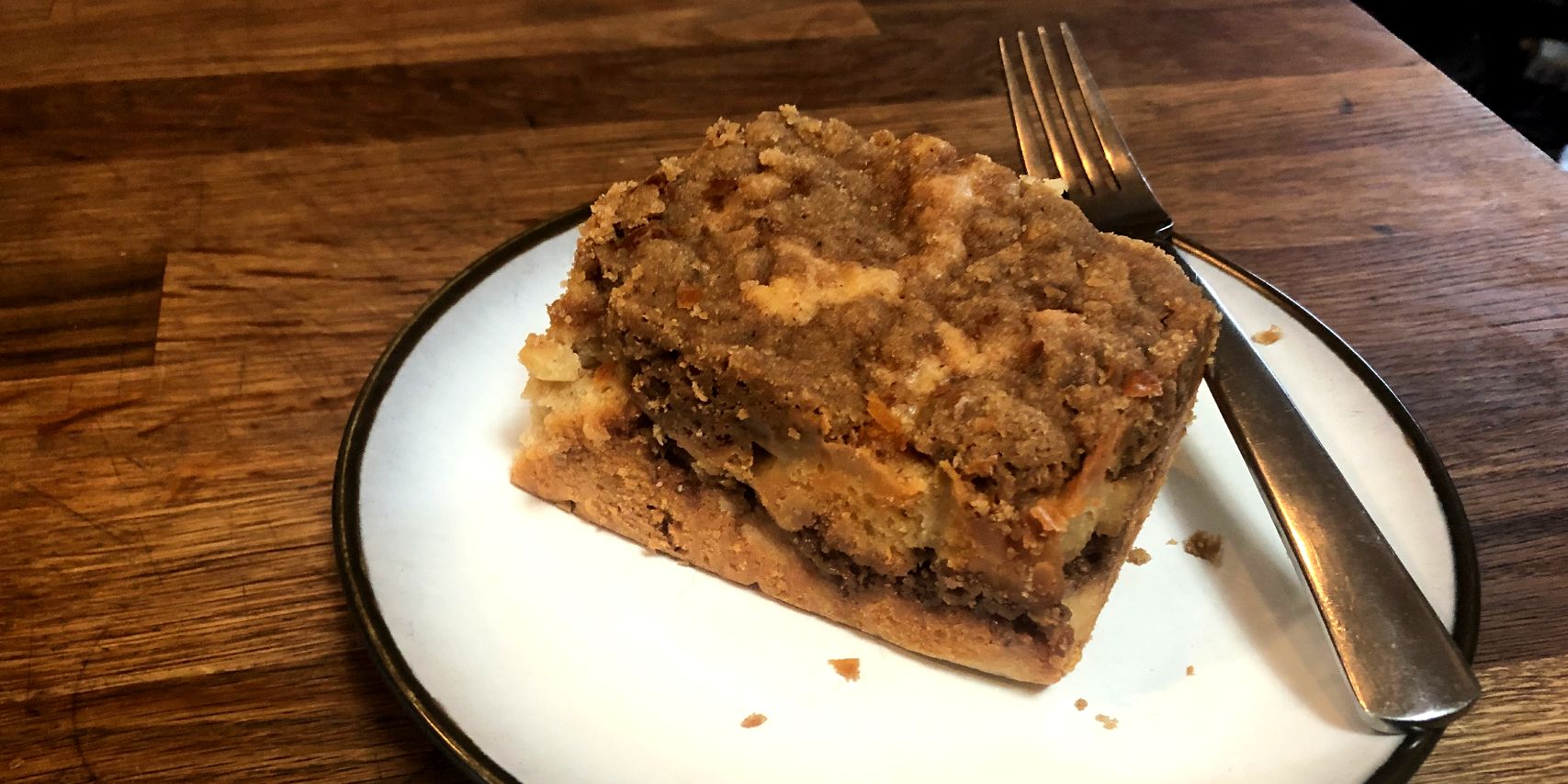 This, my friends, is a chai-spiced brown butter coffee cake. I basically did everything wrong in this recipe and it still turned out delicious. It's supposed to be a brown-butter ghee cake, but I made the error of assuming that I could skip the part of the recipe where you make ghee from scratch. I tried to brown store-bought ghee, something that actually isn't possible and ended up setting off my apartment's fire alarm. (To make brown-butter ghee, it turns out, you have to make brown butter first, and turn it into ghee. You cannot brown ghee.) It was a disaster, but the resulting cake was not! I cooked up the only butter I had on hand, salted Land-O-Lakes, into plain brown butter and it still turned out fucking exquisite.
Allison's Movie Corner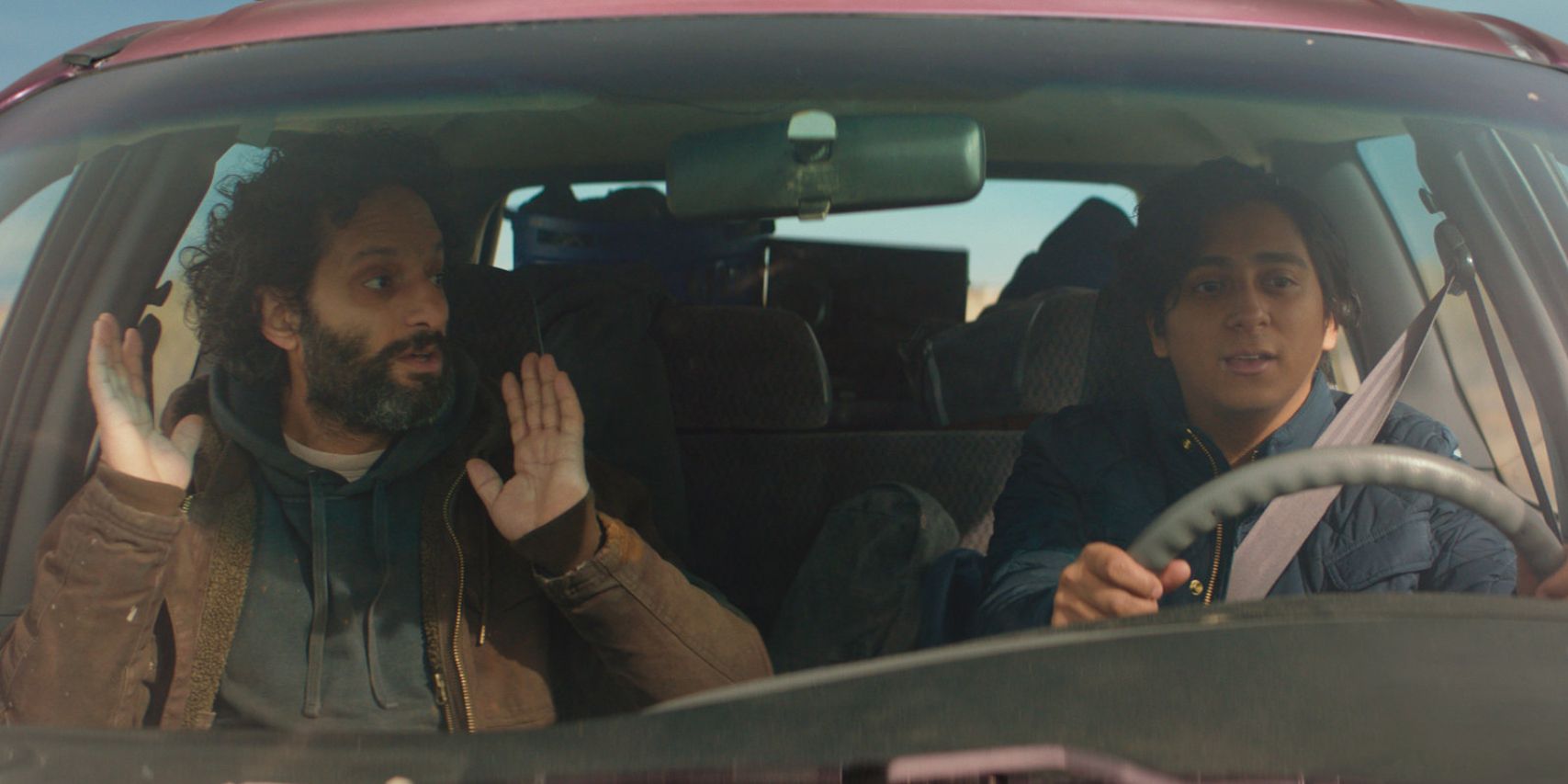 I'm an unabashed Jason Mantzoukas stan, so The Long Dumb Road was admittedly always going to be in my wheelhouse. But sometimes comedies can let you down, and this one didn't! I won't say that it's a new classic or anything, but it's a well-done little road trip movie that perfectly showcases Zouks as a charming maniac. It was a lovely escape in a time when we can't go on adventures or make new friends, and it's on Netflix now.
If you do want to watch a classic, the 1940 adaptation of Rebecca knocked my damn socks off! I decided to check it out because I've seen grumbling about the new one, and  an HD version is conveniently available on YouTube. I hadn't read the book, so I went into it fresh and was blown away by the performances, Hitchcock's direction, and the entire story. (If you, like me, are fascinated by the movie's queerness and sexual repression, this article about the novel's author will be very illuminating!)
Tis the season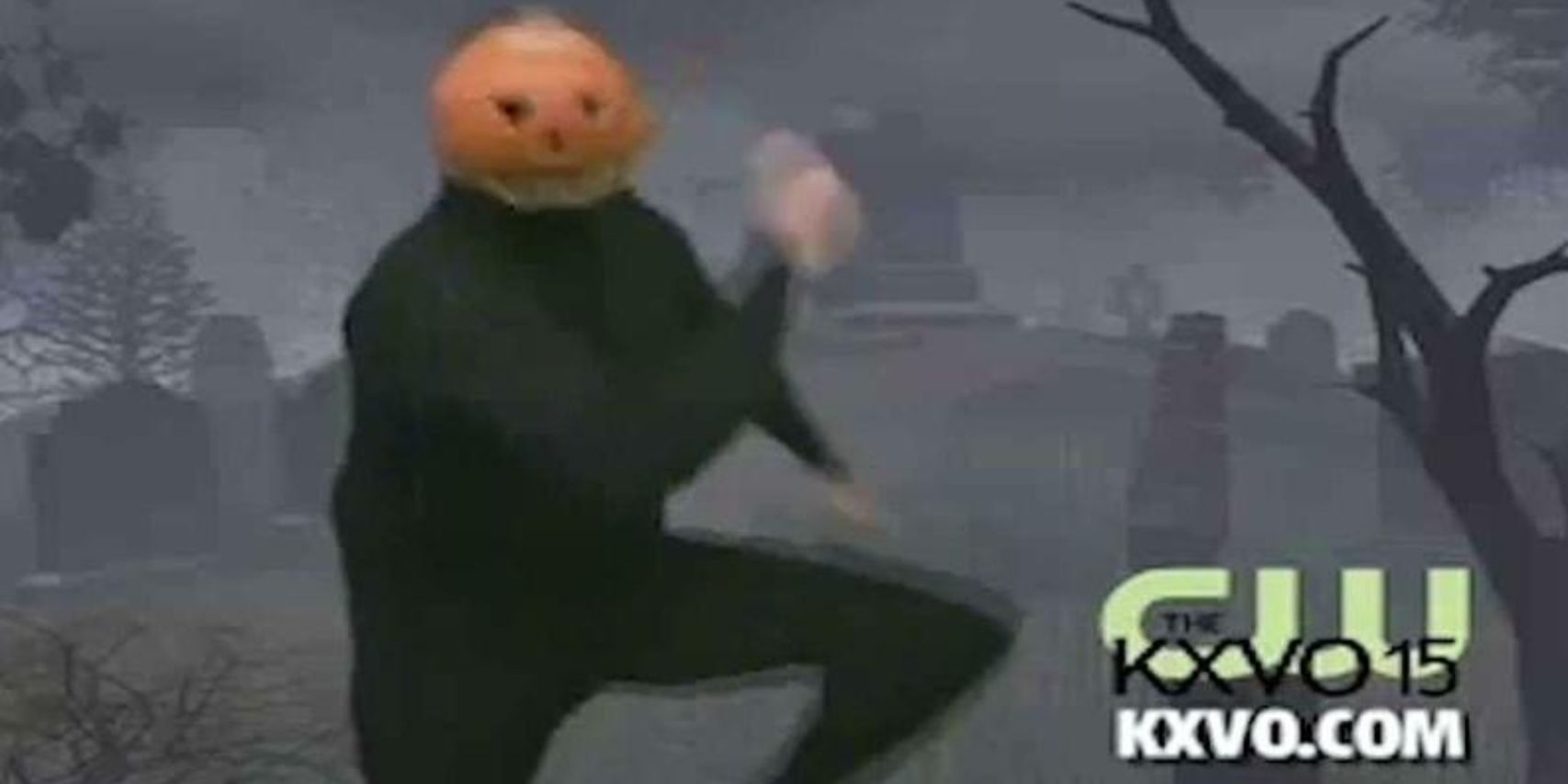 We must honor our history this time of year. Here's "The Story Behind the Greatest Halloween Video Ever in the History of the Internet," from WNYC. God bless everyone involved.
Okay, that's it for this week. I leave you with an exciting discovery I made after watching the BLACKPINK documentary: 90s K-pop!! This group is called Seo Taiji and Boys, and I learned that Seo Taiji has been called South Korea's "President of Culture" for how vast his influence has been in their music scene over the past few decades. I love how his fit, from glasses to sneakers, would pretty much look fine on any dude in Greenpoint in 2020 (except, perhaps, for the juxtaposition of a UF hat with a Yankees shirt).
I've linked my past spooky content below if you need more seasonal vibes!
---
This week last year:
"Friendmendations 10.28.19" — all the Halloweenmendations!! Charming teens recreating scary SpongeBob classics, THREE hilarious and surreal horror parodies, the  most unsettling first-person essay I've ever read, my go-to pumpkin cookies, and a song about Satan
"Music videos with Halloween vibes" — lmao, I forgot that I took a jab at Pete Wentz's cringey vampire acting long before the Fall Out Boy Music Club analysis of that video.
"How to ruin everything you touch and earn a place on my Nemesis List" — my time managing a human tornado of incompetence